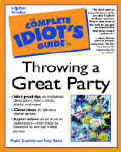 Contents at a Glance
Part 1: Festive Fundamentals
Home is Where the Party Is
The best place to entertain is at home
People Make The Party
The guests are the most important part of the party
Any Time Is Party Time—Or Is It?
Even an impromptu party will be great
Party Pooling: Co-Hosting a Celebration
Work with others to simplify your party hosting
Should I Go With a Pro?
When you need to get professional help
Part 2: To Party Means to Plan
The Theme Says It All
A theme in your plan pays off in many ways
Banking on a Budget
Help to control your celebration cash
The Honour of Your Company
The party starts with your invitation -- make it great
Tiny Bubbles: Bar Setup
Bar essentials and etiquette
Setting Up Your Space
Make your home party-ready in a few steps
Ambiance
Set the ideal mood and atmosphere
Part 3: The Host with the Mostess
Hospitable Hosts
Guests' comfort is the best step to success
Mix it Up
Libation creations for any taste or budget
Keep It Moving
Keep food service flowing smoothly
Snack Attack
Bites and bits served to surprise and satisfy
Part 4: Classic Occasions
The Cocktail Party
Cocktail party primer for many purposes
Black-Tie Affair
Formal and festive dress-up occasions
A Day of Dining
From morn to midnight—party around the clock
Strictly Business
Parties that sell, teach, reward and award
Part 5: Seasonal Celebrations
Spring Flings
Green thumbs, Easter comes and Queen Mum—Spring fun
The Heat is On
Summer parties: steamy and "themey"
Fall Festivities
Harvest, Halloween and Home Cooking
Happy Holidays
End of year celebrations with style
Winter Blahs
Warm up the chilly months with hot times
Part 6: Life's Big Events
From Tots to Teens
From baby's first to high school hoorahs
Congratulations Go To…
Step-by-step milestone event celebrations
The Favorite Five
The most frequently selected party themes
Part 7: The Party's Over
Saying Goodbye
Sending your guests home gracefully
Dealing With The Aftermath
Making the party mess go away
Making Memories
Documenting and preserving your party
PLUS!!!
Party-Planning Worksheets
Party-Planning Product and Service Resources
Wine Selection
Calendar of U.S. Holidays
Gotta Have It? Sure You Do! Order Here!