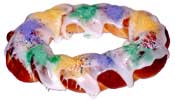 King Cake
Traditional New Orleans Recipe
Ingredients
1/2 cup warm water (110 to 115 degrees)
2 packages active dry yeast
1/2 cup plus 1 teaspoon sugar
3 1/2 - 4 1/2 cups flour unsifted
1 teaspoon nutmeg
2 teaspoons salt
1 teaspoon grated lemon zest (just skin, not rind)
1/2 cup warm milk
5 egg yolks
1 stick butter cut into slices and softened, plus 2 tablespoons more softened butter
1 egg slightly beaten with 1 tablespoon milk
1 teaspoon cinnamon
1 1" plastic baby doll* (found in craft stores or specialty baking stores)
10-20 1" plastic trinkets* (found in craft stores or specialty baking stores)
*If you prefer, just use the one baby doll in the cake.
Directions
¬ Into a small shallow bowl, pour the warm water, add yeast and 2 teaspoons of your sugar into it. Let yeast and sugar to rest for three minutes then mix thoroughly. Place the bowl in a warm, dark place for ten minutes (or until yeast bubbles and mixture doubles in volume. )
¬ Blend 3 1/2 cups of the flour with remaining sugar, nutmeg and salt. Sift into a large mixing bowl. Stir in zest. Form a hole in the mixture and slowly add yeast mix and milk.
¬ Add egg yolks and, slowly combine dry ingredients into the yeast/milk mixture with a wooden spoon. Stir until mixture is smooth. Then, one at a time, beat in 8 tablespoons butter and continue to mix for two minutes or until dough can be formed into a medium-soft ball.
¬ On a lightly floured surface, place dough and knead as you would bread dough. Sprinkle up to 1 cup more of flour (1 tablespoon at a time), while you're kneading, over the dough. Add plastic trinkets. When dough is no longer sticky, knead for ten minutes or until shiny and elastic.
¬ Coat the inside of a large bowl evenly with one tablespoon softened butter using a pastry brush. Place dough ball in the bowl and swirl until the entire surface is buttered. Cover bowl with a thick towel and place in a draft-free spot for approximately 1 1/2 hours or until the dough doubles in volume. Coat a large baking sheet with one tablespoon of butter using a pastry brush and set aside.
¬ Remove dough and place on lightly floured surface. Punch dough down forcefully with your fist. Sprinkle cinnamon over mixture, pat and shake dough into a roll. Twist dough to form a curled roll and loop it onto a buttered baking sheet. Pinch the ends together to complete the circle. Cover dough again with a towel and set it in a dark, draft-free location for 45 minutes, or until the dough again doubles in volume. Pre-heat oven to 375°.
¬ Brush top and sides of dough with egg wash (beaten egg with a tablespoon of water) and bake on middle oven rack for 25 to 35 minutes or until golden brown. Cool cake on wire rack. If desired, you can hide the plastic baby in the cake at this time.
Icing
3 cups confectioners sugar
1/4 cup lemon juice
3 - 6 tablespoons water
Green, Yellow and Purple-Colored Sugar (available in baking section)
Stir sugar and lemon juice with 3 tablespoons water until smooth. If icing is too stiff, add more water. Spread icing over top of cake. Immediately sprinkle the icing with alternating 2" bands of green, purple and yellow colored sugar.
* Here's a no-bake version of a King Cake. Buy a cinnamon coffee cake ring and cut slits in top of cake to carefully insert small trinkets so each guest gets a prize with each slice.
Decorate as with King Cake recipe.
Back to PartyPlansPlus.com Home