DINNER'S READY!
<![if !vml]>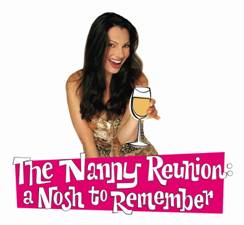 <![endif]>
Pull up a seat and join Lifetime TV for
"THE NANNY REUNION:A NOSH TO REMEMBER",
on December 6th at 8PM/7C.
Tune in early to enjoy some
pre-reunion laughs with Nanny.
You're invited to join the cast of "The Nanny" at an exclusive dinner party at Fran Drescher's Malibu beach house. Along with all the nosh and conversation, you'll see exclusive clip packages, rehearsal footage and never-before-seen Nanny bloopers. See you on December 6th at 8PM/7C sharp! Visit (www.lifetimetv.com) for more details. This is one dinner party you won't want to miss!
And, in honor of this very special event, we've put together an entire party plan for your own personal "Nanny Nosh." So get the gals (and guy fans too) together, for an evening of fun, footage, and food with everyone's favorite Nanny.
NANNY NOSH
created by
Phyllis Cambria and Patty Sachs
PartyPlansPlus.com
Authors of
The Complete Idiot's Guide to Throwing a Great Party
The Pocket Idiot's Guide to Choosing a Caterer
and
Event and Party Planning Careers: The Ultimate Step-by-Step Guide to Get Started and Succeed
TO HELP YOU CELEBRATE…
Invitations

Send your invitation to your lady friends wrapped around a tube of Fran Drescher's signature red lipstick.

Encourage guests to come dressed as one of the cast (that's right pull out your shortest, tightest skirt, stilettos, big hair and animal prints to play a member of the Fine family or your preppy best to depict a Sheffield):

Fran Drescher, Fran Fine: The Nanny Herself, in red, of course.

Charles Shaughnessy, Maxwell Sheffield: Millionaire of Fran's Dreams

Daniel Davis, Niles: The Eaves-Dropping Butler

Lauren Lane, C.C. Babcock: The Jealous Business Partner

Renee Taylor, Sylvia Fine: Fran's Obsessive Mother

Nicholle Tom, Maggie Sheffield: Oldest Daughter, The Nosh Maven

Benjamin Salisbury, Brighton Sheffield: Only Son

Madeline Zima, Grace Sheffield: Youngest Daughter
Get ready for the party by refreshing your Queen's English. Click Here!
Décor

Your options are almost limitless here. You can choose to set up your space to resemble:

Fran Drescher's beautiful Malibu beachside home

The Sheffield's elegant NY upper East Side brownstone

If you're hosting a sleepover, decorate your room to resemble Fran's bedroom

A New York beauty salon (where Fran Fine got her "roots")

A Queens, NY bridal salon where Ms. Fine was fired before stumbling into her position as "The Nanny."

Sylvia Fine's (Fran's mom) home complete with leather, leopard prints and plastic slipcovers.

Create centerpieces from shopping bags and hat boxes from some of your area's best "Fran-style" shopping haunts (Saks, Lord & Taylor, Barneys, Bloomingdales, etc.) Stuff the bags with real merchandise or leopard-print, hot pink or bright red tissue paper.

Wherever the party is set, just make sure you have your television(s) tuned to Lifetime TV for " THE NANNY REUNION:A NOSH TO REMEMBER", on December 6th at 8PM/7C.
Refreshments

What's a "Nanny Nosh" without deli food! Here are some ideas to make your spread a "Nosh to Remember."

Mini knishes

Mini bagels topped with lox (smoked salmon), cream cheese, sliced onions and capers

Deli sandwiches on rye (pastrami, corned beef, Reubens, and so on)

Kosher pickles

New York style potato salad

Creamy cold slaw

Fran Drescher is serving a full dinner to her guests so you might want to consider something a little more upscale or traditional ethnic dinner cuisine (chicken soup (with or without matzo balls), beef brisket and gravy, potato pancakes or latkes, green beans, or other favorites). In fact, you can find Fran's salad recipe right on the http://www.lifetimetv.com.

Beverages can be anything from bubbly pink champagne, to a frothy Pink Lady, to deli delectables (cream soda or a NY Eggcream (chocolate syrup, selzer or club soda and a splash of milk). Or how about a bottle of the finest "whine?"

Dessert can include something as decadent as chocolate-dipped strawberries or slices of creamy NY style cheesecake.

And whatever you serve, be sure to put it on silver plates or platters. After all, the Sheffields always showed sterling good taste.

If you can, hire or convince a gentlemen to serve your guests dressed in full butler regalia as the Sheffield's uptight and terribly funny British butler, Niles, to make the evening even more fun and fabulous.
For a variety of Deli Recipes visit this site.
<![if !vml]>

<![endif]>
Entertainment

Host a look-alike contest and award prizes for the best dressed guests.

As guests arrive and before the show, you have to play Fran's favorite (and ours) Barbra Streisand CDs and Broadway show tunes--Make it Cats or Tommy--the one's Mr. Sheffield let get away!

Tape a bunch of re-runs of The Nanny (check your local listings for the time the shows air on Lifetime Television or visit http://www.lifetimetv.com) to play for your guests before the reunion special starts.

Have guests do their best Fran Drescher laugh impression for prizes.

Take instant photos of guests in their "Nanny" attire and put into specially-sized photo frames
Prizes and Giveaways

Copies of The Wit and Wisdom of the Nanny: Fran's Guide to Life, Love and Shopping by Nan E. Fine.

Copies of Enter Whining by Fran Drescher

A DVD of Beautician and the Beast (basically a reprisal of Fran's Nanny role co-starring Timothy Dalton).

Makeup cases

Lipstick cases filled with a tube of red lipstick

Nanny's Granny's jeweled sunglasses

Albums of Broadway show tunes

Barbra Streisand collections
Bone up on your NANNY NOSTALGIA on this page.
Visit the official Nanny Reunion web page here.