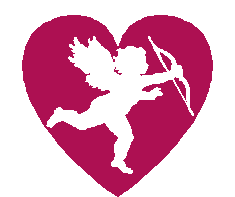 30 Sensational Valentine's Surprises for Your Man
By Phyllis Cambria and Patty Sachs
Here's a list of ways to say "I love you" to the special man in your life. Many of the ideas won't cost you a penny, just a lotta' love and some creative effort. Plan a surprise that is silly or sentimental, sensible or frivolous and economical or extravagant--whatever you do it will be a love-filled February 14th.

To present or implement on Valentine's Day
1. Borrow his car and have a new stereo system installed.
2. Put together a Cupid's coupon book for personal services like picking up his dry cleaning, making a candlelit dinner, cooking a buffet for his friends when they come over for a game or card playing, a free pass of "no nagging" when he's late coming home and for-gets to call and so forth..
3. While he's at work, have his car cleaned and detailed.
4. Take him to a concert or show he'd enjoy.
5. Compile some romantic memory photos in a decorative album with sentimental captions.
6. Love Karaoke? Either write or hire a personalized song and sing it to him at your favorite Karaoke bar. More Information on SongSendsations
7. If he has a collection, buy something he'd enjoy adding to it.
8. Plan a surprise dinner with his favorite male friend and his mate or date.
9. Have a boudoir photo taken of yourself.
10. Get an autographed photo of his favorite sports figure or movie star and have it framed.
11. Either do it yourself or arrange for a cleaning crew to come in to spruce up his bachelor pad.
12. Write a sexy story with you and him as the lead characters and give him a printed and recorded copy.
13. Arrange for a hot air balloon ride for two.
14. Show up with a picnic basket for a romantic luncheon at his job site.
15. Pet lover? Give him an elegantly framed favorite pet photo.
16. Greet him at the door wearing his gift--a team shirt or jacket! (and that is all!)
17. "Hijack" him for a romantic getaway (but check with someone at work to make sure there are no pressing deadlines that would spoil your trip.)
18. Create an "I love you because you." list of all his best qualities (including things like "do vehicle maintenance or trash disposal without being asked"), frame it and read it to him.
19. Compile a tape of his favorite songs from different recording artists. You can have it burned into a CD.
20. Find an antique or replica pocket watch and put a photo of yourself inside.
21. Go on a movie date and see an action, adventure film.
22. Create a web page to post your fond and fervent feelings for him in cyberspace.
23. Track down a copy of a favorite book or album from his far past for a nostalgic gift.
24. Find one of his old buddies via the Internet or Directory Assistance and set up a phone call reunion. (Visit the library for phone books.)

Promissory Notes: (Gifts or certificates to present to him)
25. Tickets to a sporting event for him and a his best male friend.
26. An invitation for a few of his pals for a sports event or card game. Vamoose while they "bond" and gobble up the goodies you have prepared for them.
27. A promise to do "his chores" for a week.
28. Promise to study his favorite sport and watch a game with him (without asking "typical female" questions).
29. Promise a massage (or give it yourself).
30. Registration for a seminar that would be helpful in his career.
Back to Funny Valentine Party Plan
More Gift Ideas at 40 Cupid Tips for Anyone