Rave Review Open Houses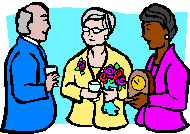 There are many reasons for inviting friends, relatives, customers or fellow association members into your home, office or plant for an open house. Some companies plan annual open house events to thank their loyal clients/customers while others limit their entertaining to special anniversaries or promotions. Press parties, product introductions or sales efforts can also be presented more effectively because of the cordiality the open house format provides. One might think that it's an easy task to "throw together" one of these free-flowing parties, but most planners of these popular events will tell you that it's a challenge to have a successful, well-attended function--especially if its purpose is to aid business.
On a personal level, the open house is ideal for graduation, wedding, anniversary and housewarming festivities. For those who wish to entertain in their homes or yards where the space is limited, an open house is the best way to invite a crowd to flow gradually through to share the celebration. A host can also produce an open house in a restaurant, banquet center, or in a neighborhood outdoor venue such as a park or garden. No matter what space is chosen for the event, the process is closely similar.
THE VITALLY IMPORTANT PLAN
The overall plan must be "comfortably tight," which means that the schedule is relaxed but its details must be ordered and precisely controlled with regular checking and double-checking of them before and during event.
The following planning principles are viable for any type of event where people will be arriving and leaving in a steady flow throughout the time frame. The guests must all enjoy a smoothly operating and seamless experience. You must maintain consistently excellent quality in all facets of an open house--from the first guests' arrival to the last ones' departure. Attendees must never feel that they showed up or left early or late thus, missing any part of your function.
REMEMBER, WHEN PLANNING...
If you are a small business owner or independent contractor you need not avoid hosting open houses due to budget, space or planning time restraints. It will all be possible if you join forces with another host. By sharing invitation lists and all costs of the event you can entertain more people at less individual cost. You will not only save money but you will have the added bonus of introducing your product or service to a new group of potential clients/customers.
Likewise, you could cooperatively host an event, say a celebration for two graduates who have mutual friends, neighbors or even relatives. This can be a great saving in time, money, effort and resources. Every one wins in these situations.
THEMES ARE VERY POPULAR
By setting a theme for your open house, you will have the basics of your plan set for you. The boundaries of a theme will clarify and simplify your options. For example, if you set a theme of "We Think the World of You" your thoughts will immediately jump to invitations that emulate passports, tickets, itineraries or baggage tags. Worldly food and decor can be that of a specific country or a veritable "Atlas" of menu choices and, within the theme, the selection of music and entertainment will be obvious...as will prizes, favors and suggested dress code.
In most cases there will be a specific purpose for having a business open house. Some possibilities are to kick off a new business, introduce a new product or service, to show off a new facility or simply to gather clients and associates for socializing and networking. With your motive or goal in mind you can set a theme by playing on any words or phrases that fit as illustrated in the plan below.
"We'd Be Lost Without You" (A client appreciation function)
Invitation: A tiny compass glued to an informal note which is matted on a piece of your city map. (Note: Invitations with a small item affixed may have to be sent in padded envelopes or tubes for safe arrival. When mailing uniquely packaged pieces allow a few extra days as they take longer than regular envelopes to go through the electronic postal system. These special attachments get a great reaction and in most cases, a higher rate of turnout. Mail a mockup of your invitation to yourself to insure that it will arrive undamaged. It need not be the final version but it should be comprised of comparable materials. This step will determine whether or not you want to use this particular design.)
Name Tag: Create a thematic mixer with your name tags by printing half of them bearing the name of a state or country and the remaining tags bearing the corresponding capitol cities. Guests find their geographical match and together they register for a grand prize drawing awarded to a winning twosome.
Food and Beverage: The menu appropriately includes food representing world travels. For table decor in the "Lost Without You" theme cover table tops with maps, then accessorize with directional props such as mock street and traffic signs such as "Dip," "Slow", "Icy" (the authentic signs might also be obtained) Signs used in the appropriate food spots as well as throughout the event space will be amusing to your guests
Decor: With additional theme oriented decorations and some traveling music the plans for your "new found" open house will definitely go in the right direction.
For instance, to create innovative theme centerpieces arrange compasses of various sizes in among fresh or silk flowers and greens adorned with ribbons. For a very elegant touch, plan for an ice sculpture designed with an enlarged replica of the compass frozen into the center.....follow me?
MORE OPEN HOUSE THEME IDEAS:
"Have We Got News For You!"
**Use newspaper effects all the way through including a tabloid style invitation
**Newspapers fashioned into flowers for the centerpieces
**Favors, prizes or gifts wrapped in newsprint and tied with twine.
"We've Moved--Come Visit!"
**Invitations fashioned after official forwarding address order forms from the Post Office
** The hosts don jumpsuit coveralls or hats and event or company logo T-Shirts
**Easy decorations of packing boxes, barrels and a variety of packing materials
**Serve from take-out containers...if you plan a potluck, your guests can even bring a "welcome neighbor" casserole.
You're Tops in Our Book!" Book Swap
**Use a bookmark invitation requesting that each guest bring a few cast-off books (new or used) to be traded
**Start off the book pile with several books that have special prize coupons tucked inside them
**Arrange colorful and interesting book posters in your decor
**Place recipe books on the buffet table
**For a friendly and casual crowd you might even place a good old Sears catalog in the bathroom
**Bookplates can double for name tags
** Invite a local author with a new book to attend and autograph copies for your lucky guests. Do you read me?? (This is one of the themes that lends itself perfectly to a fund raising event. It will be profitable if the guests purchase books from a variety of authors and all or part of the proceeds go to your chosen charity.)
"Happy Birthday To Us!"
**Summon your guests to an old fashioned birthday party celebrating your company or association anniversary
**Send out kiddy-style fill-in invitations (Why not let some of your employee's offspring fill-out and address them for terrific style and authenticity
**Serve typical birthday party fare**Hire face-painters, clowns, strolling magicians
**Add a whimsical and festive touch with party hats, favors and brightly colored balloons and streamers.
**Delight your child-like revelers with a brightly wrapped gift to take home...or a goodie bag filled with "stuff"
**Instant photo-favors are always a hit, especially to capture the sights at an open house with a light-hearted theme such as this one.
DON'T GIVE UP!! --GET HELP
If you are having trouble dreaming up a good theme, just gather your most creative friends, family members or associates together and turn them loose with a yellow pad and pencil. I predict that you'll "storm" up more themes than you could ever imagine. Once your Olympic "idea team" has created your theme you need only carry it out to the glorious finish line--of course, going straight for the gold. (Now, there's a theme right there!)
Invitations Clear and Complete
"Open house" is an often misunderstood event term so you must clearly define its meaning and parameters in your invitation. State the following:
Time? If you wish to end your event at a specific time, for instance 6 p.m., your invitation should state an ending time of 5:00. It will take about an hour to entertain the guests that slide in at the zero hour of 5:00.
To eat and drink? Let them know if they will be heavily 'wined and dined" or lightly "soda'd and snacked". Hot and cold h'or doeurvres may be "light" or "heavy" while veggies, fruits and cheeses are usually considered light. An open house buffet can be a small snack selection or a full course meal so be as explicit as you can be about your menu.
Theme and mood of the event? You can establish the complete mood of your event through paper and font style, invitation wording and any special item that is attached.
The Dress Code? By sending a casual looking invitation you will likely inspire informal, comfortable dress but it is safest to spell it out. Your guests will appreciate exacting guidance. Some dress code guidelines:
A formal invitation for a casual event: "COOL & CASUAL", "LAID BACK ATTIRE" or perhaps a light-hearted phrase such as "STRICT DRESS CODE: SHOES, SHIRTS & SHORTS AND ABSOLUTELY NO TIES ALLOWED".
Casual or gimmicky invitation for formal event: "SCRUB UP", "DON DRESSY DUDS," "DRESS TO THE NINES", "FORMAL FINERY" or the latest fashion fad--"HOT HAUTE".
HOW MANY WILL SHOW UP...AND WHEN?
Most business open houses take place immediately after work (from 5-9) and the heaviest flow of guests will be from 6-7, considering that in work-related events most guests stay little more than one hour.
To subtly orchestrate a smooth traffic flow invite guests with the wording "cocktails and appetizers" and/or "coffee and dessert". This states that attendees can come before or after dinner and be equally prompt.
HOW TO AVOID AN OVER-CROWDED ROOM?
To accommodate a large group in a modest space you can list staggered hours on your invitation. For example, by inviting family and friends from 5-7:30 PM and business associates from 7:00-9:00 PM you will smooth out your peak time. If it is a family event you invite family for the entire time--5 to 9. Take caution to distinctly separate the two groups so as not to confuse guests that might compare notes. (If you have a huge guest list you might have to repeat your party the next night for the second half of your list.)
NAME TAGS ARE A MUST AT OPEN HOUSES!
Take most of the anxiety out of your guests' open house encounters by placing an attractive, clearly printed name tag on each one's right shoulder. (See tips) For strictly social, the first name will be sufficient but when spouses or family members are in attendance it is a relief to be able to identify them without asking their connection to the guest of honor. Some brides are even using beautifully lettered name tags (plain white with just a bit of trim) to make the task of remembering everyone's name lighter for everyone. At business events it is suggested that you include guests company name. At your company events, it serves a good purpose to give name, title and job description of your employees so that your guests can recognize them and put a face to a voice.
Name tag tips:
**Place tag on right shoulder. When you shake hands your eye will naturally fall in that exact area.
**Never, Ever! let your guests write their own tags. If possible, have tags written (actually, block letter printed) in advance. Otherwise, assign guest greeters to write tags, gently press the tag in place. and throw away that pesky little paper backing. Provide a container for the throw-away backings.
**If your guests are wearing garments of fabrics like suede or velvet that are not safe for self-adhesive name tags try the alternative of pins or clips.
**At large events, color coded name tags are very helpful. Simply use different colored markers to add a code stripe to plain name tags. For example; Red=employees, Blue=vendors, Green=clients, Yellow=friends, family.
And Now.....you can offer name tags that hang around the neck on an elastic cord or in a neat zippered pouch. For more elegant occasions the cord could be replaced with a silver or gold cord.
At casual open house events like barbecues or pig roasts you might even use a plastic bib for a name tag. Or how about a visor at an outdoor event. Use your imagination to dream up a way to label your guests—matching the look to the event style.
FOOD AND BEVERAGE FOR A SUCCESSFUL OPEN HOUSE
Grazing-style buffet service, combined with food passed by servers is the ideal menu plan to feed hundreds of guests at an open house. Grazing can be facilitated by laying out one long food table utilize desks, book shelves, dividers, credenzas, accent tables, pianos and their benches, even copy machines (protected with mats and cloths) as functional and convenient mini-grazing stations.
This delightful concept of strollin', snackin' and sippin' is not only hospitable but sociable, too. As guests mix and mingle they can sample all of the food fare. Easy-to-eat-while-standing finger/fork foods are perfect for guests at crowded gatherings. Yet another contribution to your guests' well-being is servers passing through the room with trays of delicious bite-size foods. These tactics will eliminate your guests" buffet line blues.
DID YOU KNOW THAT?? Guests are less likely to over-imbibe at a fully stocked bar then if they are served just wine/champagne? Fact: When guests who ordinarily drink hard liquor can order their regular drink they are very clear on their limits but are more apt to drink inappropriately when they are served beer or wine.
If you plan an open or hosted bar, simply state "Cocktails" on your invitation. But if you've decided to host a bar that offers only beer, wine or spiked punch it is totally acceptable to also offer a cash bar to accommodate hard liquor purchases . Some feel that it is considerate to mention the options--for example "hosted wine and beer" and "cash bar" on your invitation. This varies in different parts of the country.
If the event is planned in a venue where the bar is adjacent to your party space, this is not a problem at all.
Beverage Tips:
**Make the spiked punch a different color than the non-alcohol punch and serve punch in clear glasses. This makes it clear to all who are concerned about what that they or their children are drinking.
**Name Labels on glassware will alleviate the problem of people misplacing their glasses and then getting others from the bar and the final result--lots of wasted beer, soda or cocktails.
PATTY'S PICK: POPULAR PARTY PLATES
A "lifesaver-of-the-party" at these "Standing Room Only Sip N'Snack" affairs is the small plastic plate/tray that is designed to hold a stem glass (or cup). These dandy items are available at most paper supply stores in dinner or luncheon sizes. The special design allows guests to hold all refreshments in one hand leaving the other hand free for eating, drinking or socializing. Every caterer or rental service should have them, but if for some reason yours doesn't here are some of the resources:
If you are not able to find the perfect plate for your event, give me a call or e-mail and I will help you out. I have other options not listed here.
GOOD LUCK WITH YOUR OPEN HOUSE!
These are just a few ideas, some may be new to you and some may be tried and true to you. These guest comfort concepts are essential for any kind of gathering whether intimate for your immediate family or a gala for a huge collection of business associates--or functions that fall in between. Each detail, when efficiently implemented will provide an important rung on the ladder to successful events.