"The Stockings Were Hung by the Chimney With Care"
Traditions, Tips and Tactics of Christmas Stockings
by
Phyllis Cambria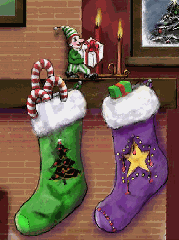 How the Tradition Began
Legend has it that once upon a time in Old England, there were three young, but poor, maidens. Too poor to be married since they had no dowry. One year, Father Christmas, knowing of their plight, decided to help. He dropped three bags of gold coins down the fireplace chimney. The bags landed into the stockings the sisters had hanging from the mantel to help them dry. The women were able to get married and live happily ever after thanks to St. Nick giving them their dowry.
Years later, in 1823, in Clement C. Moore's infamous "A Visit from St. Nicholas" (also known as 'Twas the Night Before Christmas), he, too, mentioned that tradition (The stockings were hung by the chimney with care...) and the custom was embraced by Americans and has lived on ever since.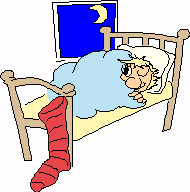 Hang-Ups
It's a great tradition if you have a fireplace and mantel, but what can you do if you don't? Here are a few ideas to help you stick your stocking in a place Santa is sure to find it.
Hang your stocking from your bedpost

Take an over-the-door hook and hang each person's stocking on their bedroom door

Weave a curtain rod through the stocking loops and use it to create a valance for your drapes.

Buy free-standing, decorative hooks meant for displaying stockings from a mantle and hang the stockings from a bookcase, shelf or table's edge instead.

String the stocking's loops through a ribbon, cord or wire or hang with clothespins and suspend the line from wall hooks.

Use vacuum or suction cup hooks and hang the stockings from a glass door or window.

Suspend the stockings from door and/or cabinet knobs.

Get magnetized hooks and hang the stockings on a refrigerator door.

Tie the stockings to a tree's branches

Hang the stockings from cup hooks you've inserted into the underside of a shelf.

Attach the stockings to a stair bannister.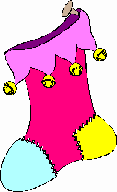 International Traditions
In America, it's traditional for presents to be opened on Christmas Eve or Christmas morning. In England, however, stockings' contents aren't opened until the afternoon.
In Italy, it is said that La Befana, who refused the Three Wise Men food or shelter on their way to meet the Baby Jesus, then changed her mind. And now she spends her time searching for the Baby to bring him presents. While she travels, she leaves gifts in the stockings of good children and a lump of coal for those who were naughty. The Russians have a similar tale with their legend of Babouschka.
However, Italian and Russian children's stockings are not opened until January 6th, the Feast of the Epiphany when the Wise Men met Baby Jesus.
Spanish children don't put out their stockings. Instead they fill their shoes with carrots and hay for the Wise Men's horses and leave it on a window sill. Balthazar, one of the Wise Men, in turn, leaves candy and small gifts for the children in their shoes to say thanks.
In Belgium, gifts are brought by Father Christmas on St. Nicholas Day on December 6th. But on Christmas morning, children find small gifts in their stockings as well.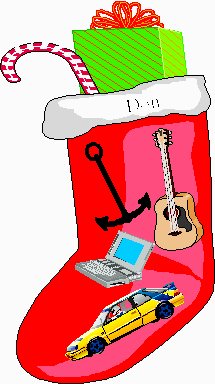 Making New Traditions
Stockings were made from a variety of materials including velvet, burlap, satin, needlepoint, tapestry, wool, linen and felt depending on family economics and custom. While stockings are still made from a variety of materials, there is now an assortment of styles to choose from or make.
Stockings may come in the traditional boot shape, but they may also resemble a snowman, reindeer, Santa or other holiday design.

Personalization is an additional trend as well. No longer is a stocking limited to having a person's name embroidered, stitched, written or painted. Think about adding embellishments to make them truly individual. Consider buttons, beads, trinkets and other adornments which suggest the interests of a stocking's owner.
For instance, for a teen girl named Lisa who is a cheerleader, likes rock and roll, loves to shop and whose favorite food is ice cream and favorite color is purple, you would see embellishments featuring a megaphone, ice cream cone, music note and mini shopping bag with her name stitched in purple thread.

Likewise for young Don, whose interests include playing the guitar, race cars, boating and his computer, you're likely to see embellishments which feature those items.
How about quilting a stocking using bits and pieces of fabrics from favorite, but no longer used, clothes or materials you've used in your home's design. It will then truly become an heirloom.
Or, if you have a collection of photos from past Christmases, reproduce the images on specially treated paper which can be ironed thereby transferring the photos onto the stocking. Then each year, add another photo from the previous celebration. You may also select whatever photos you wish such as class photos, birthdays, vacations, sports...the choice is endless.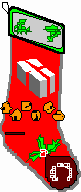 Great Gifts
Personalized stockings also make a wonderful gift that will likely become a cherished keepsake. Here are just a few ideas.
Socks and Bonds

A stocking for a new baby, perhaps made from his or her receiving blanket, would be an adorable and adored present. Perhaps include photos from the hospital, footprint and baby bracelet. Then insert a share of stock or savings bond for an "Infant Investment."

Stepping Back in Time

Create a stocking using antique fabric or design, such as a tapestry, shaped like an old-fashioned boot to create a Victorian masterpiece.

Wedded Woollies

Design stockings for the newlyweds, perhaps using extra fabric from the bride's gown or recycled bridesmaid dress. Include photos from their courtship and wedding day. You might be able to further adorn it with flowers which had been pressed from the bride's bouquet. For the groom's stocking, make it in a tuxedo fabric, add photos and stitch a bow tie to the top. If you'd like, consider adding a check or share of stock or a bond for them to "sock away" for their mortgage.

Seams Like Old Times

Got a big band fan? A "chic chick" who loves swing dancing and wearing vintage vogue? Sew a fancy seam on a stocking using a fabric from the forties, like gabardine, satin or taffeta and tuck in a pair of seamed stockings (currently making a revival) for her to wear the next time she is out jumpin' and jivin.'


On Your Toes

For a ballerina, attach an old ballet slipper to a cut down and reinforced tight leg. Slip in a pair of tickets to a production of "The Nutcracker."

Barbie or Bobby Socks

Fashion a stocking from a bobby sock and affix to a saddle shoe for a girl or a biker boot or an old-fashioned gym sneaker (i.e. vintage Keds or P.F. Flyers) and add jingle bells to help make every Christmas "Happy Days."

For a Good Sport

Instead of a stocking, hang up an ice skate, golf shoe, high-top basketball sneaker, in-line skate or other sports-related footwear.


Purr-fect for a Pet
Since many pets are considered members of the family, don't forget to create or buy a stocking for your favorite furry, fuzzy, fishy or feathered friend.

Phyllis Cambria, Official Holiday Spokesperson for Louis Kemp Seafood Company shares her party planning expertise in the Keep Your Cool Holiday Helper
Back to Home Page Holiday Links Page Seasonal Celebrations