It IS Easy Being Green…on St. Patrick's Day©
by
Phyllis Cambria
For PartyPlansPlus.com
Invitations:
* Write your invitation on the leaves of a paper shamrock.
* Let the kids get in on the fun by decorating plain stationery with rainbow stickers.
* Attach your invitation wording to a snack pack size of "Lucky Charms."
* Decorate your party envelopes, name tags, place cards or gift tags with delightful St. Patrick's stickers.
* Send your message in an empty, Irish whiskey or green plastic bottle decorated with stickers. Add a couple of shamrocks or shamrock stickers, a St. Patrick's Day pencil so your guests can pencil in the date and gold coins and tell your guests they'll find the rest at the end of rainbow (your house).
* (Have your friendly neighborhood pub save plastic bottles for you.)
* Pen your invitation wording in green ink.
* Affix a pre-addressed mailing label.
* Take to your post office for postage and to mail.
PARTY POINTER: Mail an invitation to yourself to judge the length of time of mailing and it's condition upon arrival.
Atmosphere:
* Roll out a green carpet or leprechaun yard stakes or shamrock path markers from the street to your front door.
* Your guests will immediately recognize your party site with a giant St. Pat's banner attached over your front or garage door and green shamrock bunting along your fence.
* Line your walkway with luminarias you created from green snack bags sand, votive candles and a shamrock-shaped paper punch.
* Let them know they're close to the pot of gold with a rainbow pinata mylar balloon over your front door.
* Create a table filled with emerald green, foil, or shamrock-designed paper goods.
(Many on sale for greater savings!)
* Show off your heritage or Irish spirit to your mail carrier and neighbors with a leprechaun perched on your mailbox
* Let them feel as if they are back at the "old sod" by draping your space with all things Irish.
* Illuminate the night with all the green and white candles you purchased at the after-Christmas sales or by floating shamrock candles in a glass bowl or shamrock-shaped container.
* Accent an area or line your walkway with shamrock-design novelty lights.
* Dangle blinking shamrock beads over your dining table or from your chandelier.
* Pull them into the fun with a fluffy green boa.
* Make everyone Irish for the day and part of your decor by decking your guests in green with a collection of St. Patrick's Day party hats or accessories.
It will be hats off (and on) to your serving staff (or guests and hosts) with multiple styles of neon green, glitter green, all-over shamrock derbies, stovepipe, baseball, or sequined leprechaun hats, headbands or shamrock head-boppers or pick one style for everyone to wear.
* For a smaller budget, give your guests a metal, resin, glowing or clay novelty pin, beaded, or blinking necklace or shamrock lei or beaded and/or vinyl bracelet to wear to make them feel part of the party.
* Designate your serving staff (party hosts or VIP guests) with festive green St. Patrick's Day paper or laser foil vest, sequined tie, shirt, and/or sequined leprechaun shoes
* With all the drinking of green beer, it's likely your restroom will be getting a lot of use. Delight your guests with shamrock-print toilet tissue.
Activities:
* Gather the gang to sing rousing Irish songs (Print outs available on site.)
If you want some Irish music, you'll find a collection of favorite ditties here.
* Find a balding pal with a good sense of humor and declare his naked dome the "blarney stone" and ask guests to kiss it.
* What's more Irish than a potato? St. Patrick's Day is a great reason to play the ever-popular hot potato game. Get everyone into a circle and start a potato going around from player to player keeping the potato in the air at all times. However, before someone can toss the potato to the next person, they must name something Irish -- a famous person, group, sport, city, movie, song or food (no repetitions, please). If they stop moving the potato for longer than 2-3 seconds, they're out.
* Hold a "best-dressed lass or lad" contest. Award the "Colleen" a porcelain doll and her male-counterpart a Claddagh pin and bookmark set or a bottle of Irish whiskey.
* You can't walk into any Irish pub without finding a game of darts. Here's a set of darts that will work in almost any environment.
* Test their gift of blarney with "Tell me a story, Lad or Lass." Seat guests in a circle and start a story that begins with: "Once upon a time there lived a man named O'Shea, one day he.... " The object of the game is that each person must add a sentence to make the story continue forward. You can't change the direction of the story and you can't "double back" by saying something like "but first this happened." The host will declare the logical end of the tale once each of the guests has had a chance to add at least one sentence to the story. You can play as many rounds of this as you want allowing each guest to have a chance to start the story.
* Keep the "little leprechauns" bubbling over with delight with "Blarney Bubbles" for them to blow or a St. Patrick's Day pinwheel
* A make-your-own derby craft kit will do double-duty to keep the kids quiet and give them a gift-to-go as well.
Refreshments:
*Green foil plates are perfect for cakes and cookies frosted with green icing.
* Use rainbow-colored toy springs or bracelet as napkin rings.
* Your guests will go nuts over a Leprechaun nut cracker on your buffet table.
* Serve up a healthy helping of Irish stew and soda bread.
* Their green beer will stay colder longer when served in a shamrock-covered insulated mug
* Bring a touch of an Irish pub to the party with mini "yard" and shot glasses.
* Tired of playing the "where is my glass" game? No problem when you wear your shot glass around your neck suspended from a beaded necklace. It also a perfect for when you're pub-hopping (with your designated driver).
* Here's a link to a wonderful collection of best-loved Irish recipes .
* You'll find a Hot Irish Punch recipe here along with a collection of other Potent Potables.
* Irish coffee in a shamrock mug will warm the cockles of their hearts after dinner.
* And after-dinner mints or shamrock suckers are a perfect dessert adornment or treat for your young guests.
Party Favors Finale:
* Your guests will feel as if they're tops with you when you give them an Irish costume piece to wear and keep as a memento.
* Show them the way to go home with shamrock lightsticks
* Send your guests home with a lasting reminder of their time on the "old sod" by giving them a packet of clover they can plant themselves.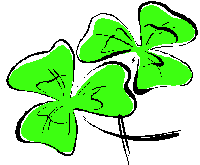 Send a FREE St. Paddy's Day Card Here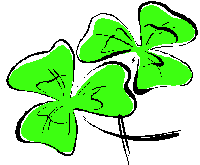 About The Complete Idiot's Guide to Throwing a Great Party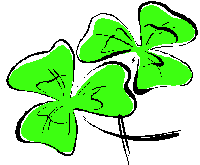 Past Party Pages
If you have any questions about this page, searching for products or services, send an e-mail to: Phyllis Cambria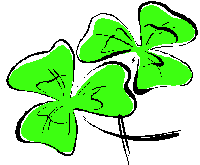 Home Page

Content on this page may not be published without the consent of the author.
Contact for permission: Phyllis Cambria
DON'T MISS THIS!!
ă2002 - All Rights Reserved