"The '50's Were Nifty"
Rock Around the Clock with this'50s Party Plan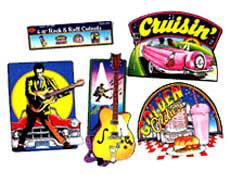 Click Here for Complete 50s Party Plan

To get on the PartyPlansPlus.com mailing list for our FREE newsletter, simply enter your e-mail address below. Use your back button to return to this page. Periodically you will receive news and announcements about the latest in the world of parties and celebrations.
Complete List of Theme and Holiday Party Plans
Complete List of Theme Party Supplies
2006, Phyllis Cambria, All Rights Reserved