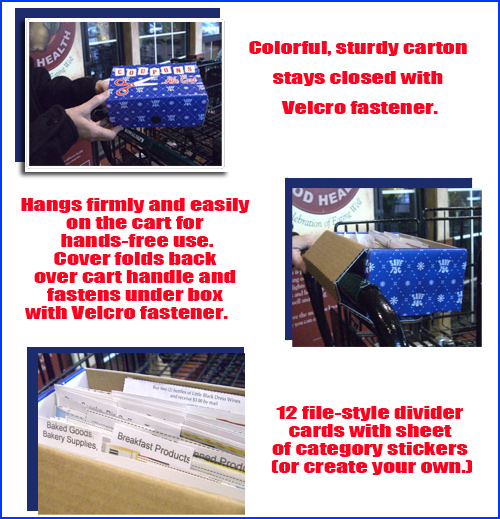 For Immediate Release:

Contact: Patty Sachs
Phone: 763-432-3395
E-mail: [email protected]

29 Years Later Coupon Carton Carrier is Still a Winner:
Hangs on Cart Handle for Hands-free Convenience

Minneapolis, MN: Coupons Ala Cart was innovated by Patty Sachs, inveterate entrepreneur in 1980 and marketed locally. Due to the high cost of print advertising, the project was dropped but not forgotten. The handy carrier/organizer's design is a boon to discount coupon users--a community growing at rocket-speed due to the current economy. This sturdy cardboard organizer holds dozens of efficiently categorized coupons and hangs on the handle of the shopping cart. Just think! Shoppers can avoid those over-flowing envelopes, accordian-fold files or unwieldy notebooks--plus impatient looks from shoppers in the check-out line.


Today's huge popularity of coupon use has inspired, Sachs, a 71 year old celebration expert and author of 10 party planning guides, to manufacture and market the still-viable design. "Back in the day, I was the Twin Cities Coupon Queen who organized coupon trades, refunding clubs and even opened a store-front savings center" says, Sachs. She concluded, "After 29 years the timing is much better--the Internet opens doors to marketing and promotion. Patience wins out."

Features:
** Coupons Ala Cart roomy carton holds all coupons that "might ever" be used--not just those for the current week's shopping list.

** The sturdy cardboard cover of the carton rolls back over the cart handle and attaches underneath the box with Velcro to secure it.
** When not in use, the cover fastens shut for a nice compact carrier that can be kept on hand, coupons undisturbed, ready for impromptu shopping stops.

** In addition to loads of coupons, the box will store a pen, calculator, even a small magnifier to check expiration dates. Coupon use has never been easier.

Now, is a time when we can save money, not only on groceries and household supplies and present coupons at restaurants, beauty salons, department and discount stores, auto services, eye glasses, electronics, craft and party stores, health services and much more. Coupons of all kinds will be organized and ready to redeem.

The colorful Coupons Ala Cart carton measures 8 1/2 X 6 1/2 X 3" and is being sold on http://www.couponsalacart.net for $6.99 plus $3.00 shipping.

A list of most popular coupon clipper sites.