PartyPlansPlus.com
presents
Affordable Custom Party Plan Services
| | |
| --- | --- |
| | Love to throw parties yourself? |
| | Or are you a novice party host? |
| | Are you in charge of your company party? |
| | Do you wish you had access to the tricks of the trade that would turn your ordinary party into an extraordinary one? |
| | Would you be excited to have access to the expertise of a professional party planner, but at a price that you can afford? |
If you answered "yes" to any of these questions, now, for the first time, PartyPlansPlus.com is offering you an opportunity to work with-- the people who wrote the book on parties -- Phyllis Cambria and Patty Sachs.
We're professional party and wedding planners, often-quoted expert media resources on entertaining and the authors of The Complete Idiot's Guide to Throwing a Great Party (Alpha Books/Macmillan). And we are here to offer our services to turn your next event into a truly extraordinary one.
Testimonials:
Thank you so much! I love your ideas. I will definitely be contacting you to help with the letters and the song "That's an Andy". I love that!!! I can't wait to get started. Makes party planning so much more fun with your creative ideas.
Thanks again. Bev H.

I'm just writing you a brief note to thank you personally for the great
ideas you've given me for my student dinner parties. You've got me thinking along new lines, and what you've said is gold dust. The answer you gave me was clear and fully detailed -- it must have taken you a lot of time, and so I'd like to say that the time wasn't wasted. If you ever find yourself in Cambridge on a Saturday night, drop me an email and come over for dinner! All the best , Rupert

For just $250*, we'll give you a:
| | |
| --- | --- |
| | up to one-hour telephone consultation or e-mail exchange (your choice) to brainstorm party ideas with you. |
| | written, custom-created, step-by-step party plan including |
ˇ invitation ideas

ˇ entertainment, activities and games

ˇ menu and serving recommendations

ˇ decor ideas

ˇ party prizes and favors

ˇ A list of online resources to purchase suggested items if you desire.
This plan is so complete you'll immediately feel confident to throw a party with ease and style. Plus, the money you'll save with our cost-cutting strategies will easily pay for our consultation fee.
In fact, should you choose to hire an on-site party planner, you will likely only need her or him for the day of the event. And, since most planners charge by the hour or just for services provided, this will enable you to save hundreds...or thousands of dollars!
If you'd like to ask a question or arrange for your custom consultation, click here to send an e-mail. Sample plan designed for a Twins Bar Mitzvah.
Party Plan Review
If you have your plan formulated but would like to have us review it for pitfalls or omissions and make additional suggestions, we are happy to provide a critique, or a "party protection policy" for just $100. To inquire more about this service request information here.
ADDITIONAL CUSTOM SERVICES AVAILABLE*
SongSendsations Custom Songs
For the low, low $150 price, you get:
ˇ An ultra-custom song parody including 20-plus personal facts to a tune perfect for your occasion.
ˇ Professionally-recorded audio cassette
ˇ Framed keepsake song sheet
ˇ Lyric sheet typed in enlarged print that can be copied and distributed to your guests for an unforgettable sing along tribute.
ˇ Delivered by mail and/or by telephone
Ideal for a birthday, anniversary, retirement, rehearsal dinner, company spirit song, invitation, press release and announcement.
For sample lyrics and more information on SongSendsations.
Roasts, Toasts and Boasts
Looking for the perfect thing to say? We'll put the right words in your mouth! Ideal for wedding toasts, poems for any sentimental occasion, bogus letters of congratulations from celebrities, and more to fit your needs. Ask for a quote!
Personal Shopping Service
Are you a guest who can't find that grand gift or perfect present? Or a host searching for an ideal invitation, dynamite décor, or unforgettable party favor? Let us shop for you! We will use our worldwide resources to find exactly what you want. Ask for a quote!
*You don't have to have a custom party plan to take advantage of these additional services.
All services may be paid by check, money order,
MasterCard or VISA or through PayPal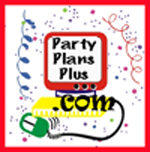 View and sign our Guestbook
Free Guestbooks by Bravenet.com