Fall Harvest Brunch Plan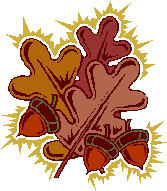 Invitation
Affix your invitation to a packet of dried apple slices.
Attach a small pine cone and a dried (or preserved) autumn leaf to your heavyweight invitation card stock.
Tie a cinnamon stick with raffia through a hole punched into a piece of heavyweight bronze, gold, burnt orange card stock that contains your invitation wording. For added interest, type your invitation onto a coordinating color typing paper, cut into the shape of a leaf and spray mount the paper to the cardstock.
Table Décor

Spread a picnic blanket or fall-colored tablecloth on your table to help set the mood.

·

Fall foliage-design napkins will add seasonal charm to your spread.

·

Press fall leaves into a book. When they've dried, write each guest's name with an ink pen to serve as a placecard.

·

Gather a bunch of fall leaves and/or an ear of Indian corn and tie to the chair backs with raffia or fall-colored ribbon.

·

Run a piece of wax paper or clear plastic down the center length of your cloth so it won't get ruined by sap. Then create a table runner filled with fall leaves, pine cones, gourds, apples and other season produce to create an eye-catching centerpiece.

·

Cut branches of leaves and place into buckets and vases as décor.

·

Spray painted in a metallic color or left natural, pine cones can add either sparkle or country charm to your winter holiday decorations. (However, never burn pine cones in a fireplace. They can explode and, if painted, can release toxic fumes.)
Activities:

Cut cored apples into thin slices and dry them with a food dehydrator or in your oven on cookie sheets for two to three hours at 2000F. Then use fall-colored ribbons or raffia to string apples and cinnamon sticks to create an apple garland that guests can take home as party favors.

Give each guest a small, stretched piece of artist's canvas, a collection of leaves, spray glue, paint brushes and acrylic paint in autumn colors. Have guests paint a background on their canvas, then let paint dry. They can then create arrangements of leaves and spray mount them onto the canvas for their own fall masterpiece. Another option is to place the leaves onto the plain canvas. Then, using spray paint, they spray over the top of the leaves, covering the canvas. Remove the leaves and they have a creative outline of their leaf design.

Send guests into your yard for a scavenger hunt of different types of leaves, acorns and pine cones. The person who collects all of the items the fastest wins a prize.
Giveaways to Go:
An apple garland
A cinnamon or apple-scented candle
A collection of low-fat, low-sugar recipes mounted onto 4 X 6" sheets of fall-colored construction paper and bound with raffia.
A souvenir framed Polaroid photo in an autumn leaves or pumpkin design.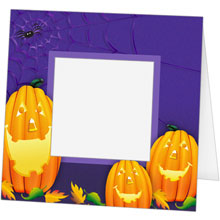 Halloween Pages for your party planning.
Halloween Themes for your party planning.
Visit our Party Mall for decorations and gifts.
Back to PartyPlansPlus.com Home