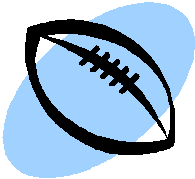 SCORE THE WINNING TOUCHDOWN WITH A SUPER BOWL SOIREE
Click to see details: Invitations Decorations Refreshments Activities Gifts and Favors Home Page
The best party starts with a sensational invitation so bowl them over with this one:
1. Line the cover of a small disposable plastic bowl with a circle of paper imprinted with the party details.
2. On a matching paper circle, create a decorative mailing label, glue to the top side of the lid, address.
3. Drop a handful of popcorn into the bowl, tape the lid, affix postage and mail from your local post office.
Use clip art and your computer to make up your invitation in the form of a football ticket.
Write your invitation with a permanent marker on an inflatable football. Mail in a cushioned envelope.
Pen your invitation and insert in a football water bottle and invite guests to bring the bottle along to be filled up with their favorite beverage at your Super Bowl blast. Mail in a small box or attach a mailing label to the bottle and send from your local post office.
NOTE: When sending an unusual invitation, send one to yourself first to note its travel time and condition upon arrival.
· Encourage guests to come dressed in their favorite team colors or wearing the team's insignia. They'll become instant décor to your bowl bash. Or, give them some festive football hats to help them get in the mood for your football fete.
· Female fans will love wearing football beads.
· Hosts should don referee stripes, football hats and wear football whistles to keep the crowd moving.
· Get guests into a gridiron mood by playing popular football fight songs.
· Light up the night with football novelty lights.
· Lead guests from the curb to your front door with yard line markers in white tape or chalk or line your walkway with team-colored lighted or plain pom-poms.
· When the action is slow or your guests need to vent their frustration, let them take a whack at a treat-filled football piñata.
· When the action is heating up or you need to cool guests off, hand them a football fan for your favorite football fans.
· Label your space with a custom football banner declaring your home Anderson's Arena, Smith's Stadium, Phillip's Field, or other suitable designation.
· No time to shop around for decorations? Buy an entire football tailgate party pack.
Let guests win entry slips to be used in prize drawings:
· Make up a fun football pool using funny money wagers that they can turn in for prizes.
· Let guests choose their favorite team (or choose one out of a hat). Brand them with team-colored face paint.
· Set up a football trivial pursuit game at halftime.
· Collect entry slips and hold a special prize drawing.
· For those guests who might not be interested in the game but want to stay in a football frame of mind, set up a TV in another room and show fun football films such as "The Longest Yard," "The Replacements," "Rudy" or other gridiron great.
· Another activity that guests who aren't watching the game can enjoy is by having them create their own half-time show complete with colorful pom-poms. Snap Polaroid or digital instant photos of the cast and present them in special frames.
· If your party starts before the game or during halftime, let guests get into the game by tossing an inflatable football or a foam football through a hoop.
· When the guests want to make some noise, give them help with football clappers, football maracas, football tambourines, football whistle or football horns. These will also be great to call guests into your football feast.
· Help them to keep score with NFL football pencils.
· Let guests shout how they feel with a football rave light.
· Serve a special drink concoction served from a "Super Shot Bowl."
· Create concession stand to dispense gourmet game goodies.
· Set up your buffet to resemble the football field with a vinyl table cover.
· Containers such as clean, line football helmets, shoulder pads, and so forth are great to hold baskets or bowls of tasty treats.
· Even the most basic game goodies will taste great when served in a football or field-shaped bowl or platter.
· Lay down Astroturf to substitute for a tablecloth.
· Flowers pom-poms and pennants arranged in a helmet or inflatable football bowl will make a for hurrah-getting centerpiece.
· Add excitement to your football buffet with NFL paper goods that show off every team or Super Bowl-specific party ware.
· Add some giggles to the goodies by serving burgers on burger-shaped plates, pizza on pizza plates or tacos on taco plates.
· Beverages will taste better in decorative football mugs that work well as take-home gifts, in football-themed plastic disposable cups, or light-up glasses that are team-colored or are chilled with football-shaped light up ice cubes.
· Keep beverages cool with a fun, inflatable football beverage cooler.
· For sweet treats, your football fans will have fun with this football gum dispenser. This would also work well to dispense jelly beans, nuts or other small snacks.
Touchdown Take-home Gifts and Prizes
Your guests will all feel like winners if you send them home with one or more of the following awarded as favors or prizes:
· Pom-poms
NOTE: The products we mention in this plan go in and out of stock quickly so some that you link to may be sold out. If you have any requests please contact us and we will try to help you find them.
Thrill your Grand Prize Winner with tickets to an upcoming sports event.
***Watch the Super Bowl live in Detroit and enjoy the party in person***
For a full range of party supplies for every theme and occasion visit the companies below:


Directory of Kid's Party Themes
Visit the PartyPlansPlus.com catalog for books, reports, and products to give your party plans a boost. Or want to track down the absolute perfect book for your event? Check out our Best Party Planning Books Page.

To get on the PartyPlansPlus.com mailing list for our FREE newsletter, simply enter your e-mail address below. Use your back button to return to this page. Periodically you will receive news and announcements about the latest in the world of parties and celebrations.
2006 Phyllis Cambria, All Rights Reserved