Make Merry Getting Ready for 2003

©
by
Phyllis Cambria
exclusively for
PartyPlansPlus.com
Decorations Activities Refreshments Prizes and Favors
Invitations:
* Here are invitation ideas that won't get lost amid the glut of holiday greeting cards.
1. Type the invitation on a piece of paper that's geared to your celebration.
2. Roll tightly and tie with ribbon.
3. Insert the invitation into a clean, empty plastic soda, water or salad dressing bottle. Leave a bit of string out for easy invitation removal.
4. Add a bit of star confetti.
5. Attach festive stickers. Add an addressed label.
6. Mail from the post office counter. (Be sure to mail one to yourself first to determine the length of time it takes to arrive and its condition.)
* Write your invitation on a label and affix to a champagne split. Mail in a well-cushioned container.
* Don't feel creative? Send a pre-printed invitation with a champagne glass or champagne bottle design.
* Stretch a New Year's banner over your doorway or on the garage door so guests know they've arrived at New Year's Central.
* Greet your guests with the sounds of The Way We Were by Barbra Streisand and someone dressed as Father Time.
* Tie star garland to your indoor plants to give them festive feel.
* Rim archways or tables with star garland.
* If your Christmas tree is still up, decorate it only with ornaments, party hats and/or noisemakers in gold and silver.
* Suspend oversized colored confetti (or cut your own from construction paper) on thread from the ceiling fan (set on low) to give guests a feeling of dining in Times Square at midnight. Or cut sections from a New Year's banner for a wild party atmosphere.
* Float helium-filled gold and/or silver balloons from the ceiling or tape air-filled ones in place with long, dangling ribbons either over your dance floor or dining table (NOTE: Be sure to keep ribbons away from any candles or other lit objects.).
* String star garland from doorways or windows as a "curtain."
* Line your walkway with luminarias you created from silver and/or gold paper bags, sand, votive candles, and use paper punch or a large needle to create a design of a champagne bottle, champagne glass or fireworks to let your dinner guests know they're on the right path to your New Year's blowout.
* Here's another take on "spirits" when guests see the taper candles in champagne bottle designs.
* Adorn the backs of each chair with a star garland or New Year's garland sections.
* Use metallic gift bags filled with Mylar sheets as festive, easy and inexpensive centerpieces.
* For sit-down celebrations, write the name of each guest on a noisemaker as a place card. Or create a festive centerpiece of a top hat holding a selection of noisemakers to pass out to guests before midnight.
* Affix a New Year's colorful, black and silver, platinum, Americana, or animal print, harlequin print or gangster style party hat, tiara or headboppers at each place setting or chair. Or just pass out headgear when guests arrive to immediately get them into the spirit and to make them part of your decor.
* Be prepared for a line at the bathroom when your guests discover you've included specialty New Year's toilet tissue.
* For color on your table, unleash serpentine streamers.
* Gearing up for a group? You'll be happy with the savings you'll find buying a total party kit with headgear, noisemakers and more.
* Short on time and/or inspiration? Choose a total New Year's party decorating kit.
* Record everyone's New Year's resolution. If you've done it in the past, play the tape at the party to see how well everyone did. This is an activity that's sure to bring giggles, grins and guffaws.
* To save money on sitters and to give all the parents peace of mind (and let the kids enjoy the celebration too), hire a babysitter (or several) to entertain your littlest guests. Rent a couple of videos and let them make some simple craft projects like decorating New Year's top hats or gold cardboard crowns with glitter, stickers, confetti , ribbons, etc.
* Reduce the chance of having neighbors complain about the festivities by including them in the celebration.
* Set all the clocks (and watches with alarms) to sound at midnight.
* Don't forget to pass out noisemakers and streamers to mark midnight.
* At the stroke of 12, pull a string and your guests will feel like they're in Times Square with a 100 piece balloon drop.
* You'll make them feel like dancing with a collection of party tunes. If they don't seem in the mood, pop in a dance videotape to give them some inspiration and to learn the latest steps.
* Ring in the new year with a chorus or two of Auld Lang Syne.
* After midnight, be sure to introduce everyone to the "New Year's baby."
Refreshments:
* Tie ribbon or garland to stemmed glasses for greater holiday flair.
* Create a festive atmosphere (and leave yourself with less dishes) by using decorative paper products such as a champagne bottle design, champagne glass or colorful design or choose plain metallic gold round or silver metallic round or gold or silver star shapes. Keep the theme going with coordinating plastic cutlery.
* For more glitter (and less clean-up) serve dry snacks in metallic gift bags.
* Food will be more festive when set into gold or silver platters/chargers.
* Lightly spray your tablecloth with hairspray, then while the cloth's still damp, sprinkle festive confetti and then mist it again with hairspray to help set the pieces. Let dry and set your table as usual. After the party, use a small brush to loosen the confetti and shake inside a plastic trash bag.
* Don't forget that plastic glassware will save you time in the kitchen as well. Personalize champagne glasses with guests' names to help them keep track of their own glass.
* Twist star garland around napkin packets of cutlery for use on your buffet. Or simply wind the star garland as a napkin ring on your dining table.

* Cut paper towel, toilet tissue or wrapping paper tubes into 1 to 2 inch sections and have children decorate with colored yarn, paints, paper, stickers and/or glued trinkets for use as napkin rings.
* Wrap utensils in napkin packets and place in a festive New Year's top hat at the end your buffet table.
* Add real glow to the table with laser light coasters.
* Your guests will start off seeing the New Year with some amusement when you send them home with a pair of 2003 novelty eyeglasses.
* Don't forget to send them home with their hats, tiaras and/or noisemakers.
* Let them think of you whenever they sip spirits with personalized champagne or beer glasses.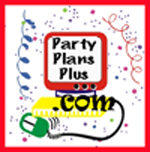 FFor information on getting your custom party design or a review of your party plan to prevent any pitfalls and to add some professional pizzazz. Click Here

Phyllis Cambria, Official Holiday Spokesperson for Louis Kemp Seafood Company shares her party planning expertise in the Keep Your Cool Holiday Helper
Back to the Holiday Links Page
©All rights reserved, 2002, Phyllis Cambria