The Glitch That Stole New Year's (Written for 2000)
(Clever party themes to make up for the New Year's Eve
we lost to the Y2K scare)
Last December 31, armed with flashlights, candles and enough batteries to light up the Las Vegas Strip, anxious people sat huddled in their homes in anticipation of power outages and chaos. When the clock clicked past midnight, without incident, the world's population was thrilled that their modern life didn't come to a crashing halt. However, the mood changed dramatically with the realization that preparing for the "disaster" may have caused them to miss the party of the century.
Phyllis Cambria and Patty Sachs, enthusiastically recommend a "Celebration Retaliation" this New Year's Eve to commemorate the "real" Millennium. Cambria and Sachs, propose that those hosting events of any size double their efforts and pull out all stops for marvelous Millennium theme parties such as:
"Better The Second Time Around" (Recycle left-over party goods and more for an earth-friendly theme.)
This theme spoofs recycling and incorporates the reckless and silly reuse of paper, glass, plastic, aluminum and cardboard. Those materials pretty much take care of every phase of your party plan, except the food and beverage. We do recommend that all of your consumable items be ones served for the first time, unless it is an impromptu gathering and you've raided your refrigerator.
| | |
| --- | --- |
| | Send an invitation on outdated stationery, the backs of holiday cards or junk mail. Mismatched envelopes adds to the attempt to create the theme effort to recycle, make-do and reuse. |
| | Decorate your party site with left-over items either from past New Year's or other special occasions. Proudly drape, hang and spread out your deja vu decor. ***Cardboard cartons, covered or not will be stunning as accent pieces and if sturdy enough, serving boards for brand new snacks. Check your supermarket for discarded boxes used to ship wine, chips or other snack foods to keep in the "party" theme. ***Cover the tables with old newspapers sporting headlines from the past year. (Cover with clear plastic.) Include leftover party goods from every past holiday including Easter, Thanksgiving, Fourth of July, or Halloween to pay homage to the past year. |
| | Set a festive party table with your best use-again plastic containers, by-gone bowls and baskets and "paper goods" saved as a souvenir from your favorite fast food stop.*** Use sparkling clean frozen dinner trays to add to your ecological motif--and guarantee a thousand laughs. ***Serve condiments using the packaged portions from fast food restaurants you've had stuffed into purses, desks and glove compartments. ***Drag out the themed glasses you've collected from festivals, sporting events and restaurants. ***Offer a collection of napkins, glasses, dishes and serving pieces you've tucked into a closet or cabinet because you no longer have a complete set. |
| | Liven up the crowd by playing party games resurrected from yesterday's celebrations. "Pin the Tail on the Donkey", "Blind Man's Bluff", "Musical Chairs" are favorites that will be nostalgic, hilarious and welcomed back. |
| | Serve snacks from parties past with recipes for trail mix, Swedish meatballs, sangria, pigs-in-a-blanket, onion dip, Hi Ho crackers, Sloppy Joe's, and other fun foods from pre-millennium menus. |
| | Gift your guests with an array of advertising specialty items, gathered from local merchants, to bring home the recycling concept ***. Present a grand door prize that will keep on giving—a traditional "doorstop" holiday fruit cake bound to be swiftly passed along to another unsuspecting soul. |
"Never Fear, No Y2K This Year"
(Play up the absence of the Y2K scare and party like there WILL be a tomorrow.)
Who will ever forget the hoopla and hot talk about the disasters that would come with Y2K? This party theme portrays all the "what ifs" and pokes fun at our attempts to stave off the dreaded dark-out. Suggest that your guests dress for survival or perhaps wear their best pajamas for an emergency sleep-over.
| | |
| --- | --- |
| | Attach a birthday candle or a small battery to your invitation and request that guests bring them to be prepared for Y2K. This will ignite enthusiasm and predict the fun of your party. |
| | Search Internet, newspaper and magazine archives for Y2K headlines and advertisements to print out for table decor and to enlarge for wall decor. Wrap fun glow light strips around napkins or glass stems. Brighten the atmosphere with candlelight and battery-operated lights. Scour party sources for left-over Y2K goods to decorate the setting. |
| | Lay out a festive Y2K buffet with a focal point of appetizers heated over sterno flames labeled "Who needs electricity?" Spread copies of Y2K articles or ads over the table and cover with a clear plastic cloth. Wrap more of those scare scraps around boxes, bottles, buckets to be used as containers for food and serving utensils. Battery operated candles light the way to Y2Kulinary offerings. |
| | Play a challenging game of Y2K trivia: pass question sheets to tables or teams, exchange sheets for correcting when time is called, each member of the winning team (most correct answers) is awarded a "Y2Krown" for their "Y2Kunning" and "Y2Kwikness." This activity is loud, raucus and competitive and an incredibly successful ice breaker. |
| | Take-home favors can be anything that reminds your guests how clever you were to throw this party. If it becomes a dress up or costume event a souvenir Polaroid photo will be the best. Rig up a decorative backdrop for your set and pose your guests to capture the "Yuk to Y2K" moment. Send guests away with "survival" gear such as candles, matchbooks, lighters, firewood, flashlights, hand-held can openers or other gifts geared to help them when they're "plunged into darkness when the lights go out" at midnight. |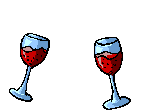 "2000 and 2001--For Twice the Fun" (Pay a tribute to the year 1999 and 2000 events for a nostalgic time.)
Reach two dozen months back in history for all the details of this party. Feature those fads and trends and party just like it's 1999 and 2000 at the same time. Use current events (the election alone could be a theme,) sports happenings, famous people, movies and technology to set the details of your decade-ending gala.
Search newspaper archives or head to the library to thumb through "The Year in Pictures" published by "Life" magazine if your memory is fading about significant events. Any of these details will inspire you to decoration and theme party ideas.
| | |
| --- | --- |
| | Glue invitation wording on the covers of copies of "Time" magazine dated 1999-2000. Invite your guests to "24 Months to Millennium," suggest that they wear a costume to represent a significant milestone of the period. |
| | Head out to garage sales and thrift stores to shop for back issues of magazines and newspapers and make posters, and hanging mobiles with print pictures of '99 and '00s. **Place a collage of magazine art on the buffet table, cover with clear plastic cloth. ** Do the same for dining tables, but put a complete page as a place mat (under the cloth) for each setting. |
| | Hot games of trivia will spark the party. Enlist the help of neighborhood teens to conduct a roving trivia game armed with questions to ask guests, "right answer" coupons that may be used to purchase prizes at party's finale. ** Borrow or rent retrospective tapes of past year's noteworthy events produced by Time-Life or other news documentary historians and air on all your televisions. ** Fashion show of costumes and prize awards will provide great entertainment. |
| | Award favors or prizes of pop culture items from 1999 and 2000 like Pokemon cards, sports championship memorabilia, Harry Potter merchandise, CD's of the hot artists and of course, either a mini-"Y2K" (candles, batteries, etc.) or "Survivor" ( sunscreen, rat trap, etc.) or a "Millionaire's" game. |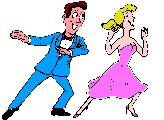 "The Night the Music WILL NOT Die"
(You and your guests will dance to the music of the past century all night long at your "power-full" party.)
No need for dancing in the moonlight this night since the electric lights will start with a romantic glimmer and end in blazing "last call." If planned as a costume event, dancers dressed to match the decades will "trip the light fantastic" and what a fantastic light it will be.
| | |
| --- | --- |
| | Send out your invitation on cassette or CDs. ***Or glue your invitation to the label of an old 45 record or 8-track tape.***Ask guests to come dressed up as dancers of their favorite musical era of the past century: Charleston, cakewalk, foxtrot, jitterbug, lindy, "The Swim," boogaloo, "Popeye," disco, break dancing, Latin, country-western, -- or any other dance of the decades.***Write your invitation on an insole and trim with a shoelace . |
| | Collect all types of shoes: saddle, sneaker, boot, high-heel, flats or oxfords, spray them with gold or silver paint, dust with glitter and use as table decor. ***Tape black paper shoe bottom cutouts arranged to represent the steps of all the popular dances, to floors, windows, furniture and ceilings.***Hang those foot print cutouts on strings from the ceiling. |
| | Use old .78s as charger plates or cover in plastic and use as serving plates for hors d'oeuvres. Do the same with LP album covers. ***Slip an old 45 record onto a black plate and top with a clear plastic plate. Talk about eating off the platters! ***Cover round tables in black cloth and center the table with a large "label" to create a "turn-table." Hang old album covers, eight tracks and promotional posters around for atmosphere. |
| | Roll up the rugs and conduct a "Cut a Rug" contest. Encourage your Astaires and Rogers, Arthur Murrays and Travoltas to put on a show.***Invite professionals in for a lesson.***Show famous movie dance scenes on a large screen throughout the party. |
| | Give guests shoe horns and corn pads as favors for fun, or supply them with a dance-party CD or tape. Create a special "silver shoe" award to be passed on at the next year's party. |
GENERIC IDEAS FOR ANY NY'S EVE PARTY!
| | |
| --- | --- |
| | Video tape guests giving their New Year's resolutions. The tapes make wonderful entertainment at the next year's party. |
| | Take instant photos in a setting created just for this opportunity. Present the guests their photo in a frame of your choice. Affix a piece of magnetic material on the back so that it can be kept on display in the home or office. |
| | Serve coffee and donuts after midnight, turn down the music, turn up the lights just a bit and begin your "closing time" tactics. |
| | Be critically aware of any guests who may have been "over-served" and take whatever steps necessary to prevent them from driving. Designated drivers, taxis or sofa beds may come into play. |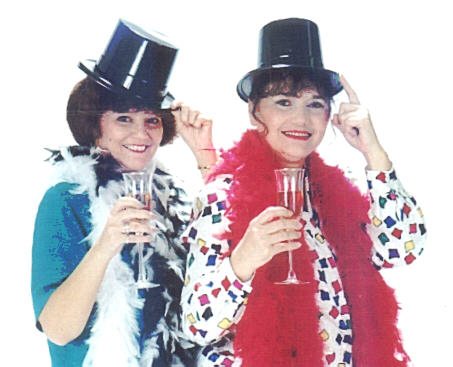 A very happy and healthy New Year to you all. We invite you to come back next year, anytime, to seek party and special event guidance.
Phyllis Cambria and Patty Sachs
PartyPlansPlus.com
Visit our PartyMall for products, services and resources to make your New Year's Eve celebration unforgettable.