Along with these original and professional party ideas, you will find links to the items
mentioned with just a click of your mouse on any highlighted word or phrase.
Invitations:
· Write your invitation on the leaves of a paper shamrock.
· Let the kids get in on the fun by decorating plain stationery with rainbow stickers.
· Attach your invitation wording to a snack pack size of "Lucky Charms" cereal.
· PARTY POINTER: When sending unusual invitations, send one to yourself first to judge the length of time of mailing and its condition upon arrival. Also, invitations in unique mailing containers must be sent from a post office to ensure they will be acceptable.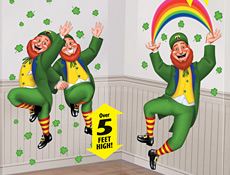 (Click here to see all Decorations)
Old Sod Décor:
· Roll out a green carpet from the street to your front door. Or, let your children create a rainbow-colored pattern along your walkway with chalk to welcome guests to your side of the rainbow.
· Your guests will immediately recognize your party site with a giant, customized St. Pat's banner attached over your front or garage door or along your fence.
· Decorate your doorway to your home or party site with a giant shamrock door cover.
· For evening events, light up the night or your walkway with shamrock novelty lights.
· Your guests will jump for joy when they see your room or front porch filled with leaping leprechauns.
· Illuminate the night with all the green and white candles you purchased at the after-Christmas sales.
· Fill your space with a ceiling filled with green and white balloons or swirling shamrocks.
· Cascade your corners with columns of shamrocks.
· Create a bit of Ireland with St. Patrick's Day, rainbow, clover or leprechaun scene setters. They also make a great backdrop for instant or digital photos which you can frame and give to your guests. By taking the pictures early in the party, you can also use the framed photos as table décor, place cards and guest gifts!
· Rim the room with a rainbow border.
· Dangle blinking shamrock beads over your dining table or from your chandelier.
· Pull them into the fun with a fluffy, green boas that can be used as a costume accessory or chair tie. Or dress up their chairs or guests with strands of shamrock beads.
· Make everyone Irish for the day and part of your décor by decking your guests in green with a collection of Irish Magic Hat collection, a St. Patrick's sequin hat, a green feather boa hat or shamrock green velvet hat. They'll also have fun with accessories such as a lime green feather boa, a green and white super boa, a one-size-fits-all Shamrock vest, shamrock beads, shamrock bracelet, St. Pat's derby necklace, or blinking shamrock beads.
· Make yourself or your waitstaff stand out by decking them out in an Irish vest and whimsical Irish hat.
· If you don't have a lot of time to shop for decorations, you can still let your lads and lasses feel as if they are back at the "old sod" by draping your space with all things Irish with a complete St. Patrick's Day party kit.
(Click here to see all Table Decor)
Irish Feast:
· Serve up a healthy helping of Irish stew and soda bread. Or, serve Irish sausage with baked or roasted potatoes.
· Turn any drink "green" with a glowing green cups, cocktail glasses or shot glasses.
· Create a table filled with an emerald green plastic cover sprinkled with shamrock confetti.
· Give your shamrock or green napkins more style when you use an elasticized shamrock bracelet or a green glow bracelet as napkin rings.
· You'll find a Hot Irish Punch recipe here along with a collection of other Potent Potables.
(Click here to see all Party Items)
Activities:
· Gather the gang to sing rousing Irish songs.
· Find a balding pal with a good sense of humor and declare his naked dome the "blarney stone" and ask guests to kiss it.
· What's more Irish than a potato? St. Patrick's Day is a great reason to play the ever-popular hot potato game. Get everyone into a circle and start a potato going around from player to player keeping the potato in the air at all times. However, before someone can toss the potato to the next person, they must name something Irish -- a famous person, group, sport, city, movie, song or food (no repetitions, please). If they stop moving the potato for longer than 2-3 seconds, they're out.
· Hold a "best-dressed lass or lad" contest. Award your winning Lass with a shamrock bracelet or necklace and your winning lad with a shamrock hat or a bottle of Irish whiskey.
· You can't walk into any Irish pub without finding a game of darts. Set up a dart board in a "safe" location.
· Test their gift of blarney with "Tell me a story, Lad or Lass." Seat guests in a circle and start a story that begins with: "Once upon a time there lived a man named O'Shea, one day he.... " The object of the game is that each person must add a sentence to make the story continue forward. You can't change the direction of the story and you can't "double back" by saying something like "but first this happened." The host will declare the logical end of the tale once each of the guests has had a chance to add at least one sentence to the story. You can play as many rounds of this as you want allowing each guest to have a chance to start the story.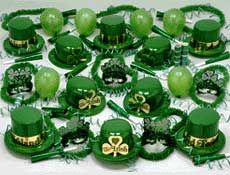 (Click here to see all Prizes and Favors)
Finnegan's Favors and St. Patty's Prizes:
· Send your guests home with a lasting reminder of their time on the "old sod" by giving them a packet of clover they can plant themselves.
· Green feather hats or boas
Just a sample of the vast variety of St. Patrick's Day Party Goods found on our many quality supplier sites.