PARTYPLANSPLUS.COM NEWSLETTER
Vol. 1, Issue 1 -- November, 2000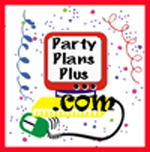 Are you ready to party? Come on! You're invited and the fun is about to begin!
Welcome to the inaugural issue of the PartyPlansPlus.com newsletter.
Each month we're going to share news you can use with:
Holiday Helpers: tips for upcoming holiday celebrations!

Premiere Party Products: information on new products or suppliers that will help make your parties better and your hosting duties easier and more fun!

The Written Word: information on magazines and books you'll want to read to get great ideas for your parties. and links to ordering information at the biggest discounts available!

Party Pros: focuses on professional planners who share party pointers for a great gala!

Setting Our Sights on Sites: instead of wading through hundreds of search engine picks, we've done the work for you. We've weeded out the best sites you'll want to bookmark.

Focused on Food: prepare an easy-to-follow recipe for celebration success.

And much, much more!
Phyllis Cambria and Patty Sachs, Celebrations Experts
Co-authors of "The Complete Idiot's Guide to Throwing a Great Party"
(Alpha Books/Macmillan October, 2000)
*************************************************************
HOLIDAY HELPERS
The holidays are usually a flurry of activities. Don't forget to include all the members of your family in the preparations.
Give children construction or plain typing paper to create and cut out snowmen, stockings, snowflakes or Santa hats. These can be uses as decorations or as place cards for your dining table.

Let children celebrating Hanukkah create their own menorah. This can be easily done with alphabet blocks spelling out H-A-N-U-K-K-A-H or C-H-A-N-U-K-K-A-H and metal washers. The washers can be hot glued (with adult supervision) to the blocks. Into these small candles can be inserted. The blocks can then be glued together, if desired.

During Karamus, children can create a Kinara for the three red, three green and one black candles that are lit during Kwanzaa celebrations. These also can be created using blocks. Children can paint or use stickers to decorate the plain wooden blocks to depict symbols of their African heritage.

The holidays are a great time for gathering family and friends, but it's also a good time to remind ourselves and each other of the spirit of this season of giving. Encourage older children to organize food, toy or clothing drives among their friends and neighbors for items that can be donated to charities.

As a family, contact a house of worship, hospital, nursing home or charity about helping with their holiday plans. This can include helping to decorate, singing songs or reading to residents of a nursing home, hospital ward or homeless shelter. It may also be a good time to put together a holiday basket to be anonymously given to a family who is less fortunate than your own.
Give the gift of yourself this season. It will be the best gift you can offer.
**************************************************************
PREMIERE PARTY PRODUCTS
If you don't know about KidStuff, you should. Their catalog offers an imaginative collection of small kids toys and themed bags and boxes that are perfect for using as goody bags, making luminarias or to send your child off to school with a lunch bag. These food containers are so much fun that it will make your family and friends want to eat that tofu and sprout wrap you packed! Oh, heck, even adults will want these treat treasures for packing "goodies to go" leftovers and then using them as an alternative to the boring brown bag. And, wait until you see their amazing collection of classic cruisers that you'll want to use at your next barbecue or '50s/'60s event!
To order a catalog, call ( 800) 677-4712 or visit their Web site at http://www.kidstuffnet.com.
***WE'RE PROUD TO INTRODUCE OUR EXCLUSIVE NEW PRODUCT!!!!***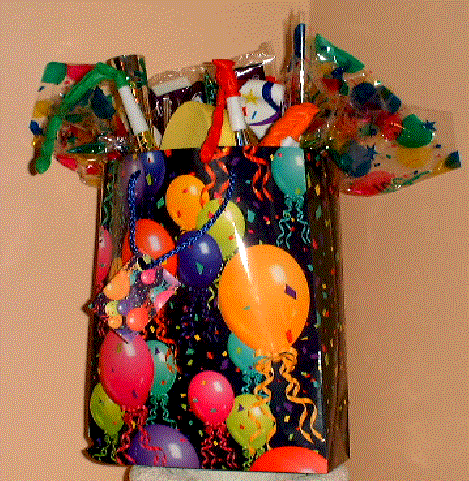 Bash-in-a-Bag™
Tired of sending the same boring bouquets? Want to give yourself a lift? We have created Bash-in-a-Bag™ -- a totally unique party-in-a-pack that comes complete with 6 party hats, 6 noisemakers, 6 napkin packets of knives, forks and spoons, 6 party cups, a color-coordinated roll of crepe paper and tablecloth, balloons and top tips for spur-of-the-moment celebrations all in a decorative and reusable party bag! You supply the food, we've supplied the fun!
Bash-in-a-Bag™ costs only $25 (plus postage). Express overnight, priority or ground shipping is available. Less expensive and more imaginative than sending flowers, Bash-in-a-Bag™ is a gift that says, "the party starts NOW!" Order it directly at:
http://songsendsations.bizland.com/store/page3.html
Or, e-mail us at [email protected] or call (815) 846-7460. Major credit cards accepted!
You may also pay with PayPal, the easy way to pay for on-line shopping. If you are not a member you can join in just minutes and get a $5.00 bonus. http://www.paypal.com
***************************************************************
THE WRITTEN WORD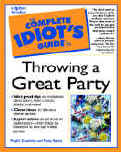 "The Complete Idiot's Guide in Throwing a Great Party" by Phyllis Cambria and Patty Sachs (Alpha Books/Macmillan)
Okay, okay, you HAD to know that the first book we were going to highlight is OUR NEW BOOK! But we have good reason to boast. It's the most comprehensive, easy-to-read, how-to party planning book ever written! Really!
If you would like to purchase an autographed copy for yourself (or as a gift to any beginning host or experienced party giver who is looking for new ideas), for credit card orders go to:
The cover price is $16.95, but you can buy it for $15.30 plus $3.20 priority shipping for the first book. SAVE ON MORE MULTIPLE ORDERS!!! Just $15.30 plus $1 additional for each book shipped to the same address.
(*Appropriate sales tax for all Florida orders or additional shipping charges outside the US will be added to your bill.)
You may also pay with PayPal as mentioned above.
Or, if you prefer, send your check made payable to:
Phyllis Cambria
PartyPlansPlus.com
P.O. Box 8146
Fort Lauderdale, FL 33310-8146
**Be sure to include the name(s) to whom you wish to have the authors inscribe and autograph the book.
Holiday Special! BONUS...BONUS...BONUS...BONUS
In addition to a great savings on an AUTOGRAPHED copy of our book, we'll send along with each order our "PartyPlansPlus.com's Potent Party Potables" drink recipe report. Included are almost 50 recipes for cocktails, mocktails, punch, ice cream drinks, Jell-O shots and more! Limited time offer!
***********************************************************
PARTY PROS
Here's your chance to hear some great tips from party professionals.
**Trash cans are an often overlooked element for any event. Be sure you have enough and be sure to empty them often. To add a festive touch to them, wrap them with plastic banquet roll material in the theme colors of the event.
Ric Singleton -- Event Dynamics - www.eventdynamics.com
(800) 348-7758 or E-mail: [email protected]
**For cute napkin rings at a baby shower, use pacifiers that have round handles. After the party, give them to the mom-to-be as an additional present.
Tina Magness -- PartyIndy -- E-mail: [email protected]
**When creating a centerpiece, be sure it has a stable base so in case it has to be moved during the party, it will hold up.
Edy Bondroff -- Party Pizazz -- E-mail: [email protected]
**When preparing hot appetizers such as rumaki, use a short length of uncooked spaghetti instead of a toothpick to secure the ingredients. Once baked the works can be consumed neatly.
Dawn Hogan – New Beginnings by C&H –E-mail: [email protected]
Send us your favorite Party Pro tip for our next issue. We love to hear from you and share with others with a passion for parties. Phyllis and Patty [email protected]
***********************************************************
HOLIDAY SHOP ONLINE AND SAVE
Tired of the hassle of malls? Don't want to drive around for hours looking for a parking space? Want to SAVE BIG BUCKS while finding just the perfect gift? Check out the MAGAZINE STAND at PartyPlansPlus.com. (click on "Incredible Selection of Magazines" on the bottom of our home page) or go directly to:
http://www.magazines.com/partyplansplus/
You will be ASTOUNDED by the savings -- some as much as 80% off the cover price. And, with over 1,350 magazines to choose from, you'll find just the right one for every person on your list. Best of all, it's the gift that reminds them of YOU with EVERY issue! (Great choice for a client, isn't it?) And each gift subscription comes with a customized card for your message.
***********************************************************
SETTING OUR SIGHTS ON SITES
Looking for a new recipe? Want to search out just appetizers? Have an overabundance of squash from your garden and don't know what to do with it all? Check out the Epicurious Web site.
Go to the "More Recipe Search Options" function and you can do a search for recipes by ingredients, course, preparation, etc.
It also has a food dictionary, drink recipes and lots more! Go to: http://www.epicurious.com
Holiday graphics and fun crafty projects for the whole family can be found at the following sites: http://www.graphicgreetings.com
A neat list of holiday decorations with kids in mind can be found at The PartyWorks Home Page. This is one of the best Kid's Party Planning sites on the web. Check out CakeWorks.com, too for a vast amount on information for creating dreamy decorated baked delights.
A very good site for those working with charitable organizations or planning fund raising events. http://www.drcharity.com/
Valuable, while free articles for promoting your business from marketing maven and sought after motivational speaker, Silvana Clark can be found on her new website: http://www.silvanaclark.com
IDEAL INTERNET PALS GIFTS! LOL and ROTFLMAO Tee Shirts. Take a look and see how cute! LOL Shirts
Holiday Company Party Ideas
Time to start putting together the plans for your company holiday festivities? Need some fresh ideas and guidance? Get a copy of our Hosting Helpers for Holiday Company Parties by sending an e-mail to [email protected] You will receive the entire article in return e-mail.
Easy and Economical Decorating Ideas--for Kids and Grownups
***********************************************************
FOCUSED ON FOOD
Here's a great drink for your guests to enjoy at your holiday celebration or anytime the weather's chilly.
Orange/Cranberry Toddies
4 medium oranges
1/2 cup cloves
3 quarts cranberry juice (if using unsweetened juice, add 2 cups of sugar)
2 cups amber-colored rum
Slice the oranges into 4 quarter-inch rounds and remove seeds. Stud peel with 5 or 6 cloves. Place oranges and cranberry juice (and sugar if needed) into a saucepan and heat thoroughly (but not to boiling) over medium heat for about five minutes. Place orange slice into heat-resistant mugs. Pour one ounce (shot glass) of rum into cup. Top with orange/cranberry mixture.
Yields: 16 servings
Note: If cloves are unavailable, you can substitute spiced rum.
***********************************************************
Check out our list of Munchies-in-a-Minute for impromptu holiday gatherings. Take a Minute!
Another fantastic collection! PartyPlansPlus.com Party Potables to take you through any holiday or festive occasion.
Are you a do-it-yourself party host who is just looking for ideas or resources? Check out our Fun and Frugal Party Plans©. These are budget-minded plans for the most popular theme events: casino, beach party, dance, luau, country-western, entertainment awards shows, and car racing. More plans are being added frequently, so bookmark the site!
These total party plans are affordably priced at just $6.00 each and they were designed to give you Cadillac results with a Geo budget! Plus you'll get a list of resources where you can buy, borrow, or bargain-hunt the suggested products. Bonus: Each order includes a free copy of our report Decorations:Cheap and Chic (value $5.00)
***********************************************************
DID YOU KNOW...

...that the seven principles of Kwaanza, the African-American celebration established in 1966, focuses during each of its seven days on one of these principles: unity, self-determination, collective work and responsibility, cooperative economics, purpose, creativity and faith?

...that Hanukkah is also known as the Festival (or Miracle) of Lights? The menorah holds 9 candles--one is used to light one candle each day for eight days, in December.

...that singing Christmas carols was originally called wassailing in merry old England and was a way of people toasting and greeting neighbors and kin during the holiday season?

******************************************************
To get on the PartyPlansPlus.com mailing list, and to sign up for our FREE newsletter, simply enter your e-mail address below. Use your back button to return to the page...

All rights reserved (2000) PartyPlansPlus.com
Please feel free to pass this newsletter in its entirety to your party pals.
Contact us at:
[email protected]
(815) 846-7460
P.O. Box 8146
Fort Lauderdale, FL 33310-8146