PARTYPLANSPLUS.COM NEWSLETTER
Vol. 1, Issue 2 -- January, 2001
Happy New Year! Everyone!
Welcome to the new Millennium!
(We celebrated both years--to be safe.)
Greetings Gala Gals and Guys!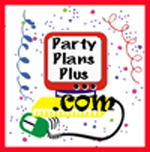 Our web site is growing every day!
Check out the PartyPlansPlus.com Web site for our latest page devoted to Bowl Parties (not just the Super Bowl) with planning ideas, resources, links and more. That's at http://www.PartyPlansPlus.com/bowlparties.htm
Be sure to check out our Past Pages of party tips and our newsletters at: http://PartyPlansPlus.com/archives.htm
All you parrot heads, Jimmy Buffet fans! Check out our Jimmy Buffet Theme Party Plan written for the Nashville Jimmy Buffet Club. Kick back with your favorite margarita and enjoy yourself!
New Year's Special on Catalog Goods! Visit our catalog and take a 10% discount on your order of party planning books, reports. Just complete your order and type "New Years" in the customer comments section. Your final total after discount will be e-mailed back. http://songsendsations.bizland.com/store/
So You Wanna Be a Party Planner The question we're asked the most often is how to be a professional party planner. So if you have been toying with the idea of joining the ranks of party professionals, check out the amazing collection of reports and resource materials Patty Sachs and Dawn Hogan have put together. This collection is a valued at $200, with the New Year's Discount you receive $6.00 off. That means you can have this invaluable information for just $52. Just put the words "New Years" under customer comments and your final total after the discount will be e-mailed back to you. So don't wait, this is a limited time offer. If you have ever considered the exciting career of professional party planning, this Disk Deal should be your first investment in your new career. http://www.pattysachs.com/diskdeal.htm
Bash-in-a-Bag™! The gift that starts the party. You'll just love this. It's our exclusive package—more imaginative than flowers and, at $25 plus shipping, it's even less expensive! Each Bash-in-a-Bag™ contains all the supplies anyone would need for a party of six, packaged in a festive, reuseable tote bag and shipped for any special occasion. In fact, give this gift to yourself! When the mood for a party strikes you, you'll be all set. Keep it on had at home or at work. You just need to add the refreshments because we've taken care of the fun! Take a peek at a sample bag and get full details at: http://www.PartyPlansPlus.com/bash.htm
The Halloween and Party Show, is March 9-13th, in Chicago at the Rosemont Convention Center. Phyllis and Patty will both be giving Early Bird seminars on all three days for attendees. Our good friend and fellow party expert Dawn Hogan will also be presenting. This is a fantastic place to learn all about the latest products and services offered in the party industry. Hundreds of vendors exhibit their wares and dozens of seminars and workshops, designed to help you in your business, are presented. We would love to meet you there so let us know if you plan to attend and we'll let you know where and when. For show information call: 800-323-5462 Or write to us and let us know if you'll be attending at: [email protected]
UPDATE! March, 2002--18th Annual National Halloween, Costume and Party Show information. We'll see you there.
Extra, Extra Read All About Us We are pleased as punch with the reception of our latest book –The Complete Idiot's Guide to Throwing a Great Party -- has been receiving. Not only is the book flying off the shelves, we're getting lots of re-orders from folks buying them as gifts. To read about the book, order your own personally autographed copy, or to check out our reviews, go to: http://PartyPlansPlus.com/book1.html
Got a store or website? Want to sell our books? Just give us an e-mail and we'll help you get them along with other Complete Idiot's Guide titles related to parties and entertaining. They are great sellers. [email protected]
Mega Magazines Speaking of reading, don't forget that PartyPlansPlus.com is offering our readers some of the best magazine discounts available ANYWHERE. With over 1,350 titles to choose from, you'll be getting incredible discounts, not only on new subscriptions, but on your RENEWALS as well! As most of you know, most magazines will give deep discounts to attract new subscribers but renewals rates are much higher. Our magazine stand offers the same savings on renewals as well! So check your subscriptions and when it comes time to renew, or you simply want to subscribe to some of the most popular publications, click on "Our New Magazine Stand" at: http://www.PartyPlansPlus.com
We are constantly trying to find information on sites, products, plans and events to help you further your party successes. You can help by sending us your discoveries. Just e-mail us at [email protected].
See you next time and remember…Don't Wait…Celebrate!