PattyCakeGreetings.com
You can see all of the cake designs at www.pattycakegreetings.com You can buy cakes by the dozen at a savings!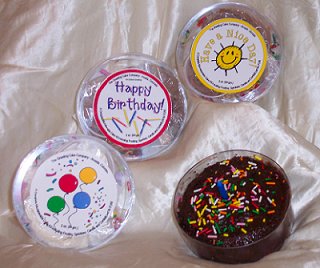 Why send a greeting card when you can send a Greeting Cake? Especially when a greeting card is just not special enough. This is the most unique greeting ever--a mini-cake, ready to bake, by the recipient.
Imagine the surprise and enjoyment when your "celebrant" opens a Greeting Cake of his/her own. There's a cake for every occasion--and if yours is a totally unique sentiment--we can customize it for you.
All the ingredients are neatly packaged ready to just add water and pop into the microwave for a delightful and delicious "Instant Celebration." There's cake mix, frosting mix, sprinkles and even a candle to complete the festivities. Less than 2 minutes and the cake is ready to frost and decorate.
How about a Bake-A-Cake Bash? Throw a super Holiday party where every guest bakes his own petite sweet with just a little microwave trickery. You'll find a total party plan here. that although, planned for a birthday could commemorate Halloween, Holiday or a kid's gathering of any kind.
Unique uses for cakes::
| | |
| --- | --- |
| | Sent as a special occasion greeting |
| | Sent/given as promotional items for your business |
| | Offered as an in-room gift from hotels, resorts or suite inns with in-room microwaves. |
| | Included in a gift basket for any occasion, especially a welcome gift for weekend events |
| | Sent along with a press release to get the attention of your target media person |
| | Used as your group's on-going fundraiser |
| | Sent as an invitation that they won't refuse |
Each cake is $6.00 plus $3.50 shipping
Additional cakes shipping $2.00 (Shipping on a dozen is only $12.00)
(Temporary glitch: You may be under or overcharged for shipping in your transaction, if so I will refund the overcharge or bill for the undercharge immediately.)
Stock up for impromptu occasions.
You can see all of the cake designs at www.pattycakegreetings.com You can buy cakes by the dozen at a savings!
These Special Occasions Deserve a Cake!
:

Birthday (Big or little--kids all love to bake their very own cake)

Thank You (What a sweet way to show your appreciation.)

Anniversary (Bake a cake, then clink and drink. Instant Celebration!)

Great Kid (Send Pride and Joy...to a Pride and Joy!)

Thinking of You (Send a cake, then give a call and share a cup of coffee and freshly baked cake.)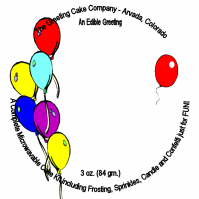 Customizable labels available. Decorative design with space for you to add names, date of event and other pertinent information.
Brand New "Cup Cakes!!" A day brightener for anyone you wish to greet. A delicious treat microwave-baked in a lovely, colorful cup that can be saved as a reminder of the special and innovative greeting. For ordering information click here.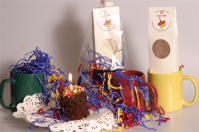 Study Break Box

Don't forget your away-from-home Students

Description:

This Gift Box is great for any student heading into exam time! The box is filled with goodies including suckers, chocolate candies, popcorn, cookies and a "Study Break" Cake!

Price: $11.00

Tell a friend about this product!

Product Options:
Order this product at http://www.pattycakegreetings.com
If you want to send a wonderful seasonal or business greeting with your own custom label...and with shipping direct to your gift list--we can do that for you!
Inquire about our fantastic fundraising program for the easiest sales item ever offered.
Patty Sachs [email protected]
What sentiment do you want to convey in a Greeting Cake? Just send an e-mail with your idea and I will get right back to you with the details of making it a reality.
This is a fantastic earnings opportunity, so if you are a direct marketing maven--here is the idea for you. Visit my site for sign up information. The sign up is only $20.00 and that includes cake samples.
These are just a few of our great Holiday Cakes!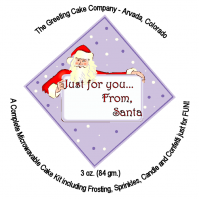 Santa Cake is neat to send or use as a stocking stuffer.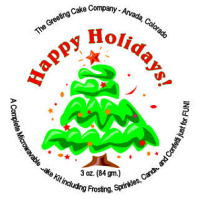 Under the Tree or in the Stocking...another sweet treat.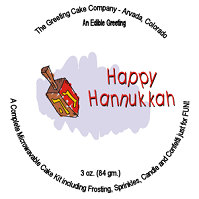 Serves as a delightful Hanukkah gift and a fun activity as well.