Get Those Kids into the Kitchen for a Fun Food Fixin' Party
Here's a cute party idea for boys or girls: Get them into the kitchen to create their own mini-cake to pay honor to the Birthday Kid or to celebrate a holiday!
Write the invitation on a paper chef hat. Personalize each hat with guest's name and request that guest brings his/her hat to the party. Hats and aprons available here.

Or you can have the "aspiring chefs" create there own hats as a preliminary project

Provide a paper apron for each guest personalized with his/her name, the Guest of Honor or Holiday's name and the event date.

Organize the "baking" activity, letting children take turns to bake their mini-cakes in the microwave oven (with adult supervision), frost cakes and decorate with sprinkles and other sweets. After all the cakes have been prepared, light candles on each one and everyone sings to the Birthday Boy/Girl or a holiday song. Allow everyone to enjoy their cakes--ice cream too, if desired.

Video tape the bake-off and premier it while the cakes are being eaten.

Play fun "bakery" games such as "Pin the Rose on the Cake", "Old Fashioned Cake Walk" (with prizes instead of cakes), "Name the Baking/Cooking Utensil".

Go-Home Goodies: Mom washes out cute cake containers and fills with treats and trinkets for children to take home. (These containers come with label that you can customize for each child. )

Be sure to take a group photo of all of The Bakers in their hats and aprons for a souvenir for the Guest of Honor or Host.

Take individual Polaroid or digital instant photos presented in cardstock frames you've decorated with party particulars, to either send home with guests or include with thank you notes.
Don't limit this idea to children...it would make a load of fun Cake and Coffee Klaatch event.
Mini-cakes in a variety of label designs are available at PattyCakeGreetings.com.
The "acknowledgement of accomplishment" cakes
are ideal for graduation gifts or kids of all ages.
Holiday designs to delight your friends, neighbors, family members--with a sweet wish in a cake.
Why send just a card when you can send a cake? The cutest gift item going. Microwaveable 4 1/2" mini-cake with frosting, sprinkles and even a candle for an instant interactive celebration!! Kids (of all ages--even big ones like you) love this sweet gift. When a card isn't enough to express your sentiment, a cake will delight. You can even have a batch customized for an announcement or invitation. Dozens of greetings for personal or business occasions.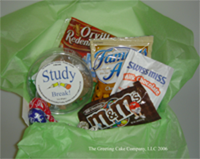 How about this sweet study break package. What a great way to let your away-at-school loved one know that you are thinking of him/her.
In time for the holidays. Just $11 plus shipping. Click Here

Greeting Cakes are a fine fund raising item. Click here.
Visit our Party Mall for the latest in party planning goods and gift-giving ideas
Back to home for PartyPlansPlus.com
Our famous Holiday Links Page
Visit our NEW Party Planning Blog today
Add your party/event-related website link to our free links page. Click on blue link below.


Get Linked from 16,000 + sites with one click.