Score a Big Home Run
with a
World Series Theme Party

by
Phyllis Cambria and Patty Sachs
Authors of
Invitations Decorations Refreshments Activities Gifts, Favors Newsletter
They call it America's favorite pastime for good reason. Here's a great plan for a World Series spectacular celebration everyone will love. Set up bleachers and a giant video screen for a fresh air outing or create a stadium setting inside. Your guests, whether avid fans or just party animals will go away cheering your "home run" efforts. Your baseball fanatic guest of honor will love this theme for a special birthday celebration. Or how about a "Team Banquet" with all the Dugout to Diamond details.
INVITING IDEAS:
| | |
| --- | --- |
| | Here's an invitation idea that will bowl your guests over! |
Trace a disposable bowl's lid on paper. Cut out two pieces for each invitation.

On one slip of paper, decorated with baseball stickers or clip art, write the party particulars and glue to the inside of the lid. On the other side, write the recipient's name and address. Glue this to the lid (or use self-stick address labels).

Put in some popcorn or just a note telling guests to bring the empty bowl to be filled with snacks.

Seal with clear packing tape. Take to post office for postage and mailing.

TIP: (Mail a sample copy to yourself first so you can judge how long it takes for invitation to arrive and in what condition.)
| | |
| --- | --- |
| | They'll know they scored a great seat with this idea. |
Use a clip art or publishing program to create an invitation in a stadium ticket design.

Number the tickets for prize drawings.
| | |
| --- | --- |
| | How about a double-duty invitation? |
Glue your party particulars to the underside of a baseball visor and suggest your guest wear the hat to the game.

Send the invitation tucked into a baseball loot bag, with the guests name written on it.
| | |
| --- | --- |
| | Or send a conventional style invitation to the big game. |
| | Encourage your guests to come in team colors for a "best dressed fan" or "legendary baseball player" competition. |
| | Buy boxes of Cracker Jacks and carefully open to insert your invitation and a baseball trinket. Put in a box, oversized envelope or attach a mailing label to the outside of the boxes and take the the post office to postage and mailing. Again, if you have enough time, mail a sample copy to yourself first so you can judge how long it takes for invitation to arrive and in what condition. |
DIAMOND DECOR:
To give your party true sports bar or stadium style, follow these simple decorating tips:
Stand a cardboard cutout of The Babe or Mark McGuire at your front door to welcome your game-day guests.
Or better yet, if you hold an annual baseball party, start a tradition of honoring The Babe in an authentic costume. Click here for information.

If you have the space and the weather is nice, hold the party outdoors to

promote a true stadium situation .

Just be sure that your TV sets (or rent a large-screen TV for a really big game) are situated so the sun doesn't cause a reflection and your guests can see all the play-by-plays.

Drape your den with shirts, throws, jackets, programs, hats and other baseball finds.

Encourage fan rivalry by decorating with colors and insignias to match the teams playing.

Hang a sign over your door or on your lawn with your stadium's name (O'Brien's Outfield, Marvin's Mounds, Palmers Park, etc.) to let your guests know they've arrived at sports central.

Cover chair backs with team shirts and jackets to further set the scene.

The party host(s) should dress in umpire attire to add to the atmosphere.

String baseball pennants from doorways and around the room.

No helium, just hot air, is needed for this beautiful baseball centerpiece

If you're short on time, buy a complete decorating set

Suspend a piņata for added ambience and so frustrated fans can free their feelings at the end of the game.

Dangle baseball cutouts from your ceiling or chandelier.

Set the scene with this 8' x 14' baseball stadium backdrop for your viewing or buffet area.

Here's a fun and frugal idea! Let inexpensive, oversized plain t-shirts (if your budget is bigger, select baseball style shirts) do triple-duty as decor, place cards and a post-game memento by using a publishing or word processing program on your computer and heat-transfer paper to create personalized team shirts for your guests. Type in each guest's first initial and last name and assign them a number to correspond to their favorite team player. Use clip art programs, stickers or iron-on patches to designate their favorite team on the sleeve.

Part of the fun of heading to a stadium is eating all the great concession stand snacks. Here's some ideas to make guests stand and cheer: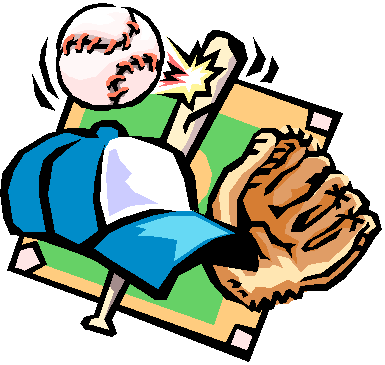 | | |
| --- | --- |
| | Attach baseball trading cards to ponytail holders for use as napkin holders. |
| | Arrange flowers in a baseball helmet and add pennants for a hurrah-getting centerpiece. |
| | Keep chips and veggies to bite-sized varieties to avoid guests being penalized for double-dipping. |
| | Hire neighborhood teens to hawk the food from boxes or trays tied around their necks like the concessionaires at the stadium. Rehearse them in their chant--"Get your red hot hot dogs and peanuts right heah!" |
| | Form your favorite white cheeseball recipe into the shape of a baseball. Pipe red cheese or pimento strips to resemble the ball's stitching. |
TIP: If you're ordering take-out, plan to have it arrive early, even if you have to re-heat it. World series games mean busy take-out days at your favorite restaurant and you might find the game over before the delivery arrives if you wait until the last minute to order.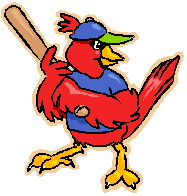 FAN FUN:
When the game is slow or time-outs, keep the fans going with a series of stadium stand games. This also works well with spouses or guests who aren't interested in the game but want to stay with the party spirit.
| | |
| --- | --- |
| | Encourage patriotism and a sense of being at the game by encouraging guests to stand up and sing along to the National Anthem and saluting the American flag . |
| | Kick off the game with a rousing singalong rendition of Take Me Out To The Ballgame. |
| | When your team's standing is up and down, match the action with a baseball-styled yo-yo . |
| | Test their skills by tossing a regulation baseball through a hula hoop or old tire or against an old mattress propped against a wall or tree with a bullseye painted on it. |
| | Encourage team spirit by "branding" guests with their favorite team tattoos. |
| | Log on to ESPN.com so fans can catch up with stats and also to play the trivia games found on those sites during that seventh inning stretch. |
| | Dugout drama can still be tense by trying to score with baseball maze puzzles. |
| | Rent or buy a few videos with a baseball theme such as League of Their Own, Bull Durham, The Natural, the new one, The Rookie, or others from "favorite lists" found on this page. This activity is for guests who don't care about the diamond doings but still want to stay in the spirit of your celebration. |
| | For pre-game fun, let your guests or the kids put together team-colored pennants from felt triangles, stick-on letters or fabric glue, tape or staples and sticks. |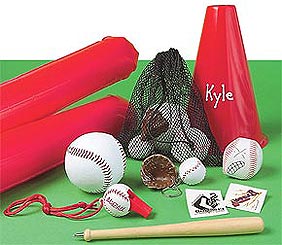 BASEBALL FAN FAVORS, PRIZES and GIFTS:
Let the good times linger, long after the umpire calls the last out, by sending guests home with fun baseball favors.
| | |
| --- | --- |
| | Send guests home from the game with goodie bag filled with: |
Baseball caps , Baseball Yo-Yos , Keychains ,
| | |
| --- | --- |
| | Here's a baseball prize you can bank on on their loving! |
| | Cheer the team on with personalized megaphones. |
| | Let everyone know that baseball's on the brain by giving guests a pair of goofy glasses with baseballs imprinted on the lens. |
| | Take instant photos of the guests and insert them in cardstock frames you have decorated with rubberstamp artwork, stickers, hand-painting. |
| | Guests will go Looney Tunes over this Taz or cartoon character baseball cap. |
| | The fun of this air-filled footware is that they make noise and are a great prize and surprise. |
| | Grand prizes for the winners of the baseball pool... a super baseball poster. |
| | For the guest of honor at a baseball themed party, have all guests sign a brand new "game ball" and present it in a souvenir showcase. |
| | Or how about tickets to an upcoming sports event? |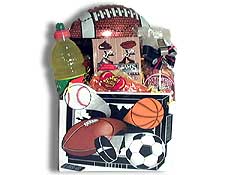 Super host gift...or grand prize...
The Most Valuable Player Box Includes:
Plush Gorilla and Ball
Gatorade
Carmel Corn
'Jelly Belly' Jelly Beans
' East Shore' Seasoned Pretzels
' Nuts About You' Seasoned Snack Mix
Click Here and a Sports Theme Balloon
An ideal host/hostess gift to follow your baseball theme!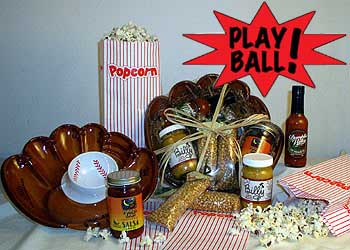 For information on getting your custom party design or a review of your party plan to prevent any pitfalls and to add some professional pizzazz. Click Here
Sign up for our Free Newsletter, simply complete the form below. (Use your back button to return to this page.)
Note: PartyPlansPlus.com has made a commitment to its readers and customers, the "No Spam Guarantee." We will not use your names or email addresses to send you unsolicited information nor will we sell your information to any third party. It's our promise to you.
| | |
| --- | --- |
| | Join PartyPlansPlus! |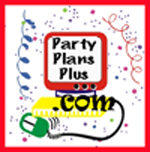 2250 Seagrape Circle
Coconut Creek, FL 33066
Phone : (954) 974-7907
E-mail: [email protected]
Back to PartyPlansPlus.com Home