My Funny Valentine Party
for Couples, Singles, Adults or Kids
By Phyllis Cambria
Invitations:
Reproduce a recent photo of you and your honey and use as your invitation stock. (If 8x10 prints are out of your budget, use color copies instead, even if it's a black and white shot.) Affix to a cardboard heart .
Find photos or postcards of Hollywood's best-known on-screen or off-screen couples -- Bogie and Bacall, Tracy and Hepburn, Astaire and Rogers, Rhett and Scarlett or current couples and use the back of the picture to send the party particulars. This is particularly fun if it's not a couples-only party. Use the postcards as a "casting call" for a new male heartthrob or leading lady.
Invite guests to come dressed as their favorite romantic duo.
For a heart-felt invitation, send out your Valentine invitation in a heart-shaped frame.
Invite adult guests to your love-fest with a sweet message on a heart-shaped
For children, use whimsical Valentine's note pads. Best of all, the invitation
doubles as a party favor! Now isn't that sweet?
Let children have as much fun creating the invitation as planning the party by
giving them Valentine stickers or self-inked hand stamps to form designs.
They'll go wild when they see an invitation trimmed in animal print, heart-shaped
stickers or written on an animal print, heart-shaped notepad.
Put yourself in the mood to pen Valentine's invitations with a
Trim your invitations with an unconventional, but beary-cute Cupid
For a girls night only Valentine's Day, they'll giggle remembering "you've

got to kiss a lot of frogs before you meet a prince," with invitation stock or

stickers which look a lot like one of Kermit's royal relatives.

If you think the dating scene is a jungle out there, animal-shaped

heartthrobs will keep you in a "hunting" frame of mind while you write your

invitations.
Send along heart-design pencils and ask your guests to "pencil in" the date for
your Cupid celebration.
Atmosphere:
Roll out a red carpet from the street to your front door.
Line your walkway with luminarias you created from red snack bags sand,
votive candles and a heart-shaped paper punch
Create a table filled with hearts and flowers-patterned paper goods or
If you prefer to bring out the animal magnetism in him or her, set your spread
using animal print products
Let them know they arrived at Cupid Central with a Valentine welcome banner at
your front door.
Illuminate the night with all the red and white candles you purchased at the after-
Christmas sales.
Wear your (illuminated) heart on your sleeve or anywhere else you choose.
Dangle hearts over your dining table or from your chandelier.
Drape your space with hearts and cupids
Tack big, red, hot (mylar) lips to your walls, ceilings and doors and flash your kissing heart light to get your guests in the mood for amore.
Play around with your heart strings (beaded hearts on a string) by spreading them on your tables for color and fun.
Encourage a collection of love letters by decorating your mailbox with
Line the path to your palace of love with a series of Valentines.
Turn one of your home's artificial decorative trees into a love bush with blown
or spun glass ornaments.
Be prepared to cool things down when they heat up by giving your guests a
heart-decorated hand fan at each place setting.
Let that special someone know "your heart" reacts to their slightest touch with
You'll bring smiles to their faces and a lighthearted look of love with a
bouquet of smiley-face balloon hearts.
What to tell him, her or them how you feel but can't find the words?

Display a bouquet of heart-shaped balloons imprinted with the words of

love in your heart, if not on your lips.

Fill the room with helium-filled hearts.

If your idea of a Valentine's party starts with breakfast in bed, then a heart- designed mug is perfect for something hot.
Activities:
Greet each female with a lighted silk rose that shines with your admiration
. Give the men a blinking heart to wear to prove your heart is in the right place.
Gather the gang to sing sentimental or silly movie songs ("Abbadabba
Honeymoon").
Nothing sets the mood for romance better than a collection of love songs and
here is a list of music you can dance to from now until next Valentine's Day no
matter what your favorite music style is.
Here's a game that will bring grins. Get into a circle and start a ball/balloon going around from player to player keeping the ball/balloon in the air at all times. However, before someone can toss the ball to the next person, they must say a the title of a love song or romantic movie (no repetitions, please). If they stop moving the ball within 2-3 seconds, they're out.

Unwrap My Heart is a fun game which you do by wrapping a heart-shaped box of chocolates in 9 or 10 layers of gift wrap or tissue. Sit everyone in a circle and play music and pass the box around like a "hot potato." When the music stops, the person holding the package removes one layer of wrapping. Their "reward" for getting a chance to unwrap the present is that they have to perform a trick, sing a song, dance, tell about their first kiss, or something silly like trying to whistle with a mouthful of crackers. Repeat until the last layer of wrapping has been removed. The last person keeps the present.

For folks who want to "get a little closer," you can't miss with Pass The Orange. Line your guests into two or more groups of 4-6 people. (Alternate sexes if you want.) They must pass an orange from person to person, without using their hands. It's generally done, chin-to-chin. A variation on this is to pass a balloon from person to person without using their hands. That's generally done chest-to-chest or occasionally chest-to-legs or legs-to-legs.
Need some inspiration? Pop in a selection of romantic stories in your DVD
or VHS.
If Cupid's arrow missed their target, let your guests release their frustrations and take a crack at giving a whack at a heart-shaped or love bug piñata and see if they get "bit" back with candy and prizes.
See if your aim is any better than Cupid's with a heart-shaped dart game.
Use a heart-shaped tic-tac-toe board to play with or to use to serve treats.
Toss more than your heart in the ring with a wooden or inflatable heart-shaped ring toss game.

If his heart seems more in the game of golf than you, grab his attention with a heart-shaped golf game.

When your love life is up and down, match the action with heart-design yo-yos.

When you're guests are puzzled by the ways of love, see if they have any more luck with heart-shaped puzzle games.

"Brand" the one you love to let others know he or she is taken with heart- shaped tattoos.
Refreshments:
Use Valentine cookie cutters to cut bread for hors d'oeuvres, sandwiches or
sugar cookies to keep your guests (or kids) in a sweet mood.
Tie white napkins with red heart-shaped beads or a glow bracelet.

Pull cloth or paper dinner napkins through Valentine cookie cutters.
If the way to a man's heart is through his stomach, you'll love trying out any
one these dozens of made-for-love Valentine's Day recipes from The Gourmet
Sleuth. Or, prepare recipes from the best-selling Music and Menus for Romance
set complete with "music that sets the mood" on CD.
Add power and passion to your potent potables with a heart-shaped straw,
You'll get a bear hug from your kids if you serve their soft drink in a

Show them how much you care with glasses decorated with pink and red

Wrap up napkins with a candy-bracelet that doubles as a napkin ring.

Toast romance with heart-stacked stem glasses'
Party Favors Finale:
Mark their leftover treat take-home box with some heart-design stickers to let them know you cooked their food with love.
Kids will love having a treat and a toy when you give them their candy hearts in a plush pouch or candy container in the shape of their favorite animal.
Instead of store-bought pre-made boxes of chocolate, fill a heart-shaped box
with sweet treats of your own design.
You'll pull more than their heartstring with a pull-string Valentine treat bag
filled with sweet hearts.
Share more than your heart of gold, when you give them a Valentine-decorated treat sack filled with gold-wrapped chocolates.

Give that special someone the key to your heart on a key chain that has a light…to help him or her find the way.
Love books? Love to cook? Then you'll love this FREE gift to keep or share. It's "Cooking by the Book" and it contains 50 scenes and recipes from 50 books from 25 writers around the world (including Phyllis Cambria's "Easy and Elegant Country Chicken Kiev" which would be perfect for a romantic dinner anytime). You can read more about the book and download it here

If you love to give away love stories, here is a collection you won't want to miss. Don't forget the romance novel aficionados with this assortment. These titles are perfect for sports lovers, while pet lovers will purr over this group chosen just for them.
Mattie means love--and peace and goodwill towards every man. This incredible child, only 9 years old, has written two books of poems that have taken the country by gentle storm. Oprah featured him on her program and his books sold out! Either one would be a fantastic Valentine's gift--for a loved one of any age. They will change the way you see life. Mattie Stepanek's Heart Songs,

More Valentine's Scoop...

30 Sensational Valentines for the Man in Your Life.

40 Cupid Gift Tips for Anyone You Love

10 Sensational Single Valentine Celebrations

The History of Valentine's Day

Looking for the outrageous or outlandish or just outstanding?

Visit Spencer's Gifts for a great selection and sweetheart prices.


Find your Valentine the perfect gift at The Lighter Side
We'd love to hear from you. Please sign


<![if !supportLineBreakNewLine]><![endif]>

<![if !supportLineBreakNewLine]>
<![endif]>
Search Amazon.com for the perfect book, movie, CD or gift for your sweetheart.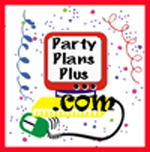 FoiFor information on getting your custom party design or a review of your party plan to prevent any pitfalls and to add some professional pizzazz. Click Here