PartyPlansPlus.com Exclusive

Wild West Party Theme - Birthday/Anniversary/Retirement/General
The ideas listed here range in complexity to suit many personal preferences and requirements. They are meant to inspire you and guide you as you plan your special occasion. Have a great time brainstorming and planning a fantastic party.
We've even included places to find most of the items we suggest, so all you have to do is place your order, send out the invitations and set up your chuck wagon full of vittles.
Invitations:
| | |
| --- | --- |
| | Make 8 1/2" x 11" "You're Wanted" posters featuring the faces of your guests of honor on Kraft paper inviting the townsfolk to "Celebrate Bill and Kathy Gettin' Hitched 15 Years Ago" and mail in a manila envelope. |
| | If guests live nearby, have someone dressed like a pony express rider, hand-deliver (or mail) the telegram-looking invitations. Write in wire style: "Come to anniversary party. Stop. Honoring Tim Higgins' Birthday. Stop. Friday, June 11. Stop. Arrive by 8 p.m. Stop. Wear western..." Grab your hats here! |
| | Mail or hand-deliver a straw cowboy hat, with the party information written on a paper hat band. Instruct each guest or couple to bring their decorated hat to the party, for a wild and woolly contest. Hats for decorating, here! |
Atmosphere:
| | |
| --- | --- |
| | Encourage the ranch hands to come dressed in western wear. Western wear specialties, here. |
| | Set up special rocking chairs for your guest of honor cowboy and/or gal. |
| | Cover the tables in old quilts, gingham prints or cow-patterned fabric. Western table decor, here! |
| | Feature some of the vibrant and exciting party ware designs for Western table settings. |
| | Use bandannas as place mats and napkins. Try a toy sheriff's badge (see below) pinned to a ponytail holder makes a mighty fine napkin ring. Or write each guest's name on the badge and use as a name tag. |
| | Hang a boot-shaped pinata and cactus lights on a string to add western atmosphere to a patio. |
| | Arrange bunches of wheat, daisies, sunflowers or wildflowers in cowboy boots, metal coffee pots or tin pitchers. |
| | Bring in camping or storm equipment such as oil lamps, lanterns and cooking pots to add to the theme. |
| | Display cowboy hats, toy six-shooters, a spittoon, Indian headdresses, cowboy boots, toy rifles, horseshoes and ropes attractively around your ranch house or dance hall. Western decorations, here! |
| | Soak the labels off beer bottles and use bottles as candle holders. Or create your own brewery label bearing the name and a pictures of the guests of honor. |
| | Create a brand on your computer incorporating the intertwined initials and a wedding ring design for the guests of honor. Have napkins imprinted with the brand. |
| | * Play real cowboy music by the original western sweethearts Roy Rogers and Dale Evans |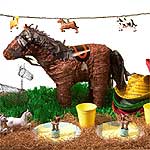 Activities:
| | |
| --- | --- |
| | Get everyone up for line dances or bring in a square dance caller. |
| | See who the Annie Oakley or Frank Butler ("Annie Get Your Gun") in your party posse is with cork guns and bow and arrows (with suction cup tips) aimed at a bullseye. |
| | Hold a fashion show and have guests of honor judge best decorated hat (as mentioned above). |
| | Invite your town's barbershop quartet or Sweet Adelines to serenade the guests of honor. |
| | Get the anniversary guests of honor up to dance to "Sweethearts of the Rodeo" or Anne Murray's "Could I Have This Dance for the Rest of My Life." |
| | Put hay in the back of an open pickup truck and take everyone out for a hayride. |
| | Host a sing-along around a campfire, fireplace or barbecue to serenade the guest(s) of honor with western tunes . |
| | Set up a rousing competitive game of horseshoes. For an indoor version, have guests try to toss pretzels on a wooden dowel. |
Refreshments:
| | |
| --- | --- |
| | Line cowboy hats with a gingham napkin or bandanna to serve corn, taco, or potato chips. The hats also work well for peanuts in shells, popcorn, trail mix, pretzels and/or other dry snacks. |
| | |
| --- | --- |
| | A large galvanized wash tub serves as a drink cooler. |
| | Colorful plastic boot-shaped trays are ideal for snacks. |
| | Give almost any dish a southwest flavor by adding chili powder or hot sauce. |
| | Use disposable pie pans for your guests to use to pile on their vittles. |
| | Serve up the sarsparilla in clear glass boot-shaped mugs. If not for beverages can be used for snacks or candles. |
| | Host a best barbecue sauce contest and let the guests of honor act as the judge. Name the award "Carol and Steve's Best Barbecue Bet." |
| | If you're cooking wieners over a grill or in a fireplace, spear them on dead tree branches and have everyone roast their own. |
| | Mix up several varieties of meat and vegetarian chili in varying degrees of spiciness and let guests know "They'll Be a Hot Time in the Old Town Tonight." |
| | Serve sarsaparilla, root beer, lemonade and regular beers in plastic or glass mugs or mason jars bearing each guest's name. |
| | Paint and decorate a castoff cowboy boot, line well with plastic and use to hold beef jerky sticks or licorice. |
| | Roast foil-wrapped potatoes and corn in an open fire. |
| | Dress your "chuckwagon" or "dance hall" servers in gingham prints or white shirts complete with armbands and a string tie. Don't forget to add a handlebar mustache to the men! Western party gear. |
| | Serve hot coffee in tin or old crockery cups. |
| | Decorate a cake and duplicate the double-ring/initial brand you created for the guests of honor at an anniversary or a "Meanwhile Back at the Ranch" design for a retiree. |
Party Prizes/Favors
| | |
| --- | --- |
| | Put instant photos of guests lazing in the rocking chairs in photo mount frames you've prettied up with rubber stamp art, stickers, and leather strings. |
| | Or reward your guests with a photo in a "Wanted" poster frame. |
Click here for more frame designs or to order. Polaroid and Digital sizes.
| | |
| --- | --- |
| | |
| | |
| | Hard to find, and especially at these prices!! |
| | |
| | A Sheriff's Badge with a self-adhesive magnetic strip attached to the back, makes a decorative and useful memento of a happy hoe-down. Use as name tag or place card. Click on Theme Parties, Western. |
| | Spray paint old horseshoes gold, trim with ribbons and give to guests as a good luck paper weight. |
| | Say "thank you for coming" with a small live or artificial cactus plant in a clay pot. |
| | Present your party favor items in a cardboard container with a spicy Chili Pepper design. |
| | Send your party posse into the sunset with a mason jar filled with trail mix and trimmed with a licorice string. |
| | Delightful packages of dips and mixes for the Southwestern party guests or hosts. Individual packs as favors and sets as prizes or gifts. |
A fantastic host/hostess gift to follow the Western theme is the Home On The Range Gift Box for Four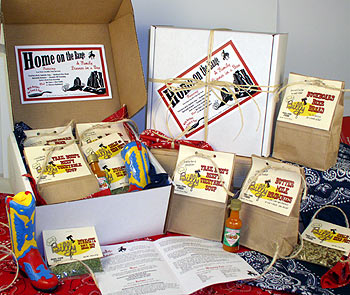 Featuring:
Trail Boss Beefy Vegetable Soup
Buckboard Beer Bread
Buttermilk Brownies
Dynamite Dill Seasoning
Garlic & Herb Pesto Seasoning
Plus, Hot Sauce, Boot-Shaped Candle, 4 Western Bandannas, Recipes, Shopping List, and Ideas for Family Fun!


An ideal place to find western decor, equipment, supplies and gifts to enhance your western theme party.
For a full range of party supplies for every theme and occasion visit the companies below:


Directory of Kid's Party Themes
Visit the PartyPlansPlus.com catalog for books, reports, and products to give your party plans a boost. Or want to track down the absolute perfect book for your event? Check out our Best Party Planning Books Page.

To get on the PartyPlansPlus.com mailing list for our FREE newsletter, simply enter your e-mail address below. Use your back button to return to this page. Periodically you will receive news and announcements about the latest in the world of parties and celebrations.
| | |
| --- | --- |
| | Join PartyPlansPlus.com mailing list, NOW ! |
2006 Phyllis Cambria, All Rights Reserved