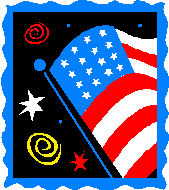 Patriotic Parties: Be True to the Red, White & Blue
by
Phyllis Cambria
exclusively for
PartyPlansPlus.com
With the summer celebrations of Memorial Day, July 4th and Labor Day, as some of the largest party days of the year, now is the time to start planning to show off your true red, white and blue colors. For non-US celebrations, select the colors that match your country's flag.
Invitations:
* Attach the invitation to a mini flag and roll it up in a cardboard roll left over from wrapping paper or a paper towel roll. Decorate the outside with colorful stickers and a color-coordinated mailing label.
* Pen your invitation on a patriotic hand fan which will serve double-duty to also keep guests cool at your cookout.
* Send your invitation attached to a small packet of barbecue seasoning or lemonade mix.
* Enclose your invitation in a plastic soda bottle adorned with patriotic stickers and colorful mailing label.
* When using mailing containers such as cardboard rolls or plastic bottles, mail from the post office. (Be sure to mail one to yourself first to determine the length of time it takes to arrive and its condition.)
Atmosphere:
* Post front door greeters dressed as Uncle Sam, Lady Liberty and/or Betsy Ross in Stars and Stripes gear.
* Welcome your guests with the sounds of the most popular patriotic music.
* Line your walkway with a row of small American flags on sticks
* Encircle your napkin packets of utensils with glowing lightrope bracelets
* For durability and a party favor they'll keep for years, substitute cloth bandannas in patriotic designs for paper napkins.
* Let your guests show off their true colors with blinking red, white and blue necklaces.
* Have your waitstaff be part of your decor with patriotic paper vests and/or hats
* In a hurry? Purchase a complete decorating kit to eliminate any guesswork.
* If you're trying to keep track of which guests are yours at a large celebration in a park or public area, "brand" your guests with a temporary flag-shaped tattoo
* For evening events, your can let your guests know they're on the right path when you line your walkway with a lighted path you created from firework design luminarias, or create your own with red, white and blue snack bags , sand, votive candles, and a paper punch.
* Make it easy for your guests to find your picnic site with a collection of patriotic wind socks or patriotic designed mylar balloons blowing in the breeze and marking your spot.
* Hang up copies of the Constitution, The Bill of Rights and the Declaration of Independence to add a little history to your political party.
* Dangle cascades of stars from your trees or chandelier.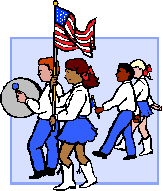 Activities:
* Who can resist a sing-along of popular American melodies?
* For the fun of sparklers without the risk, let young guests twirl red, white and blue lightsticks in the night.
* Running children and patriotic pinwheels go hand-in-hand at summer celebrations.
* Encourage your guests to share why they're proud to be an American.
* For rainy-day entertainment pop in a copy of "1776," "Yankee Doodle Dandy" or "Stars and Stripes Forever" into your DVD or VCR.
* Play a game of U.S.A. trivia, awarding a prize patriotic book to the winner.
* Turn geography into a game by giving your guests (young and old alike) a map that contains the outline of the states and ask them to pencil in the state's names.
* See who can guess all 50 states and/or their capitals. Give a prize for the one who guesses the most correctly and an Atlas to the one who guesses the least amount correctly.
* Set up a kazoo or comb and tissue paper band. Or a flute salute.
* End the festivities with a your guests humming "Taps" on a toy trumpet .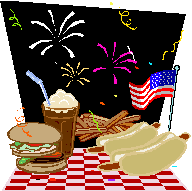 Refreshments:
* Pick your favorite picnic fare and serve in star-shaped serving dishes .
* Serve small dry snacks such as nuts in mini patriotic hats or chips, pretzels and popcorn in overturned summer skimmers or top hats.
* Go with a red, white and blue menu such as red, white and blue corn or tortilla chips, strawberry, apple and blueberry compote, pitchers of Red Rum Runners, White Pina Coladas and Blue Hawaiis or baked potatoes served with salsa or blue cheese toppings.
* Any menu will seem patriotic when served on paper plates with a flag-waving design or Americana bowls and platters. Or you can serve on a mix of solids in red, white and blue.
* Keep beverages cool with can coolers with the spirit!
* If you're not sure what to serve or how much, check out our Summer Parties article.
Party Gifts, Favors and Prizes:
* Send or take a fantastic Patriotic Party Pack to a favorite host.
* Take a photo of your guests with your Uncle Sam, Lady Liberty or Betsy Ross impersonators.
* Take a collection of party goodies in a beautiful American Flag Basket as a hostess gift that doubles as a wall decor later.
* Let your party be a flag-waver they'll remember with their own Old Glory .
* Help guests keep their cool all through the summer with a patriotic fan.
* Mugs, shirts, and other fun favors. All personalized for you.
* Top the event off by giving each guest a patriotic top hat felt hat or skimmer.
* Party Favor ideas galore! Just click here.
A great Host Gift.......
Caroline Kennedy's wonderful new book A Patriot's Handbook: Songs, Poems, Stories and Speeches Celebrating the Land We Love
"What Happened The Day You Were Born" certificates are incredibly popular as gifts, favors, prizes and greetings. The software is downloadable on a trial basis then the registration is very reasonable--considering the thousands of certificates you can print and give...at pennies apiece. Birthday Bios Here.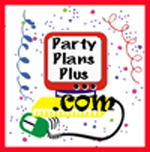 FoiFor information on getting your custom party design or a review of your party plan to prevent any pitfalls and to add some professional pizzazz. Click Here
The latest way to support our troops!
Click here! Prayer Pins! No purchase necessary to honor a person in the military. Visit today!
ŠAll rights reserved, 2002, Phyllis Cambria
Back to PartyPlansPlus.com home
Some of our Past Party Plan Pages
Our New All Themes Directory Page