All parents experience that moment of joy when their child starts to draw. From first scribbles to paintings, there's a special pride we feel in seeing our child's creativity come alive. What do we do with their budding masterpieces?

With the best of intentions, we hang them on the refrigerator or wall until they overflow, send them with a parent to the office, or mail them to proud grandparents. After a while they get lost or ruined. Face it, we only get one chance to preserve these treasures, and until now, there hasn't been a good way to do it.

Don't risk losing any of these precious memories of your child's creations. Display their 8 1/2" x 11" or 12" X 18" artwork in the revolutionary Li'l Davinci frame that doubles as a storage cabinet. Each Li'l Davinci holds up to 50+ masterpieces, and opens on hinges, making it easy to stroll down memory lane. Children grow up so quickly... don't risk losing their art along the way.

Features:
Opens just like a cabinet with glass door.
Display new photos instantly
Stores 50-plus masterpieces
Finest quality in every detail
Ultra-slim profile, just over an inch thick
Fastens securely to the wall and remains straight
Allows you to display and enjoy your kid-works!
# 1. $29.95 for 8 1/2 X 11" (11 1/2 X 14" overall) Has Table Stand.
White w/black mat or Black w/white mat,
#2. $30.95 for 8 1/2 X 11" (11 1/2 X 14" overall) Has Table Stand
with finish choice and double mat choice.
#3. $39.95 for 12 X 18" (15 X 21" overall) No Table Stand.
# 4. The Collection Group: 4 frames at a special price: $89.95
New ordering page at Amazon.com. Best prices and great shipping prices.
Frame Finishes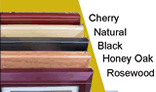 Mat Choices
Black w/white, White w/white, Linen w/gold
Note: Black, White, Honey Oak and Cherry NOT available in double-mat options.
12 X 18" Artwork Frames

This is one of the most popular paper sizes used for kid's artwork.
No Double Mat option with this size frame. Only as listed.