'50 Elvis Theme Party Plan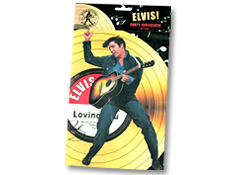 Elvis Presley – is the center of this '50s theme party. You can create your salute to "The King" with these tips, ideas and party suggestions created especially for you by award-winning party planner and author Phyllis Cambria for PartyPlansPlus.com.
To make your planning even easier, we've included links to quality party supplies hand-selected by this party pro.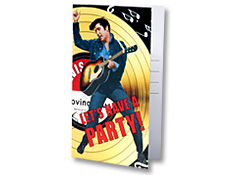 '50s Party Invitation from Elvis:
· Send your invitation on an Elvis postcard or headshot.
· Head to thrift stores, flea markets, online auctions and yard sales to find old Elvis albums or 45s and affix your invitation to the record.
· Wrap your invitation around a pocket comb.
· Choose a pre-made Elvis invite.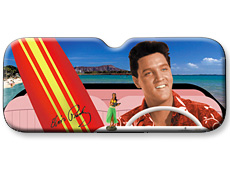 Decorations - Elvis is in Your House:
· Who said that tablecloths had to go only on tables? This Elvis tablecloth design would work well on other pieces of furniture or as wall covers. These can be put up quickly with easily removable sticky tack.
· Dig through the attic, flea markets, online auctions, yard sales and thrift shops to find old Elvis album covers, movie stills, movie posters and records. Suspend around your party site.
· Can't find old Elvis records? Use your computer and CD labels to make up old-style Elvis record labels to replace the label on an old record. Use a hole punch to cut a hole in the center of the label to make it more authentic-looking.
· Ask your male guests to come dressed as "The King." They'll immediately become moving decorations at your party.
· Suspend Elvis-style sunglasses around your rec room.
· Set up several TV sets and VCR or DVD players around the room. Rent or borrow (try your local library) old Elvis movies and concert videos and play them on the sets. The sound doesn't have to be on, but the movies will add to your atmosphere.
· Give a backstage concert look to a corner of your party room. Rent or buy an Elvis costume and a black leather jacket. Show them off on hangers from a wall hook or a clothes rack. Set up a "makeup" table. Put out a few wig heads complete with Elvis wigs, red scarves and ornate belts. Prop up some real or inflatable guitars to make it appear that the area was all set for Elvis to get ready to start a concert.
· Prop up a variety of Elvis stand-ups around the room to show that Elvis hasn't "left the building."
· Elvis-design car shades can be put into the hot rods or old Caddy's or convertibles you may have displayed outside your home or party site. (Check with local car clubs to see if you can rent or borrow a few.) Or simply hang them on the walls.
· Put vinyl Elvis window clings on all of your large glass surfaces such as glass furniture, windows and mirrors.
· Circle your space with Elvis banners.
· Light up the night with music note novelty lights.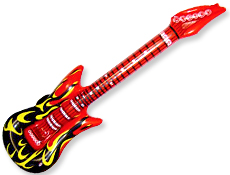 Elvis Activities:
· Get everyone up to do their best Elvis impression contest. "Thank you, thank you very much."
· Hold an Elvis trivia contest.
· See who can do the best "swivel hips."
· Invite the guests to come dressed as "The King" and hold a best costume contest. Or give them an Elvis wig and sunglasses to help them to feel like "The King."
· Either get a karaoke set for guests to sing Elvis songs or let them lip sync to his greatest hits with a glitter microphone and an inflatable "air" guitar.
· Have an Elvis film festival or show a collection of his televised concerts available for purchase or rental or possibly are available to borrow from your local library.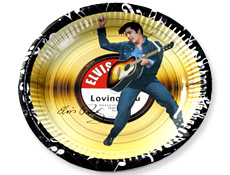 Elvis's Favorite Foods and Table Toppers:
· Cover your table with an Elvis-print or black tablecloth. Mix and match black or gold plates on the printed cloth or put printed Elvis paper goods on your black cloth.
· Sticking to Elvis's heritage, his favorite foods, while tasty, are not likely to be found on any weight loss meal plan. But since this is a party, why not let your guests indulge in some "southern comfort" with fried chicken, barbecue pizza, banana pudding, Sloppy Joes, and sweet potato pie.
· Spice things up with "Don't Be Cruel" or "Burning Love" hot sauce.
· Serve French fries, popcorn, pork rinds or sweet potato chips in an inverted Elvis party hat or paper cup.
· No Elvis party would be complete without his favorite peanut butter and banana sandwich. Following is the recipe for each sandwich:
Peanut Butter and Banana Sandwich
Mix the peanut butter and mashed banana together. Lightly toast the bread and spread with the peanut butter and mashed banana mixture. Put the bread together and coat bread with margarine. Put into a frying pan and cook on medium heat until both sides of the sandwich is browned. (If you want to offer these as hors d'oeuvres, cut into triangles and serve.)
· Just tell your guests to "kiss your grits" with an old-fashioned waitress outfit, complete with a frilly handkerchief pinned to your top with an Elvis gold record magnet pin or blinking LED magnet guitar pin and sporting a hot pink beehive wig.
· Sweet ice tea is often referred to as "the house wine of the south."
· Use four of your Elvis LPs to create a centerpiece. Hot glue the records together to create a "box" shape.
· While you're searching for records, look for a pair of old-style suede shoes. Remember, you can always paint them blue. A pair can be hung over your buffet or dining table or stacked on a pile of records as a centerpiece.
· For a dramatic buffet display, prop up three real or inflatable guitars to create a triangle shape as a centerpiece.
· You also can use a pre-made Elvis centerpiece.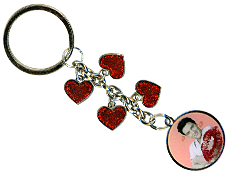 Elvis's Fan Favorite Favors, Prizes and Surprises:
· Authentic-styled Elvis guitar magnet
· Elvis "Love Me Tender" replica gold record magnet
· Elvis heart and photo keychain
· A bottle of "Don't Be Cruel" hot sauce
· A bottle of "Burning Hot Love" hot sauce
Note: This plan includes just a small amount of party supplies available for a Elvis theme party. You can find more party products for this or almost any theme from our carefully selected suppliers listed below. Remember, supplies may be limited, so order early to ensure you'll get your party products in time for your party.

Check out the MakesParties Closeout Corner for Super Savings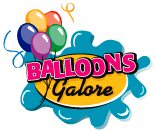 Directory of Kid's Party Themes
Visit the PartyPlansPlus.com catalog for books, reports, and products to give your party plans a boost. Or want to track down the absolute perfect book for your event? Check out our Best Party Planning Books Page.

View and sign our Guestbook
Free Guestbooks by Bravenet.com

To get on the PartyPlansPlus.com mailing list for our FREE newsletter, simply enter your e-mail address below. Use your back button to return to this page. Periodically you will receive news and announcements about the latest in the world of parties and celebrations.
2006 – Phyllis Cambria – All Rights Reserved