"The '50's Were Nifty"
Rock Around the Clock with this'50s Party Plan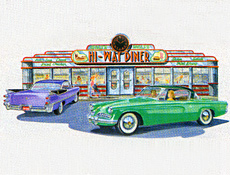 Happy Days are here again and you and your guests will rock-around-the-clock
with these party ideas created for especially you by award-winning
party planner and author Phyllis Cambria for PartyPlansPlus.com.
To make your planning even easier, we've included links to quality products hand-selected by this party pro.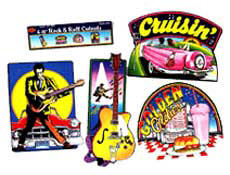 '50s Party Invitation to Happy Days:
· Print new record labels containing the party particulars and place them on old 45s or fake records. Name the "record company" after your guest of honor or party hosts. These are invitations that are bound to go platinum.
· Use a fabric paint pen to write the invitation on a bobby sock or stuff the paper invitation into a sock.
· Use photo postcards of Elvis, James Dean, or Marilyn Monroe as your invitation stock.
· Write your invitation on the back of a '50s party cardboard cutout.
· Encourage all your cool cats to come dressed in '50s finery.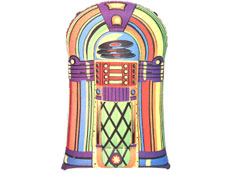 Click Here for all Decorations
'50s Happy Days Theme Decorations:
· Set up a soda shop or dinner setting with small cafe tables (available at most rental stores).
· Hang real or inflatable music instruments around the site.
· Find old saddle shoes or sneakers (not modern-looking athletic shoes). You can even use white nurse's shoes and turn them into saddle-looking shoes with brown paint or by gluing pieces of brown felt onto the shoe. Hang from the ceiling.
· To use sneakers, saddle shoes or any boot -style roller skate as a retro centerpiece, slip a water tumbler into a bobby sock, then fill the glass with straws and slip the sock into the shoe or skate.
· Use James Dean, Elvis, Marlon Brando and Marilyn Monroe life-size stand-ups, movie posters, and movie stills to adorn the walls next to posters of hot rods and oldies album covers.
· Contact a local classic car club about displaying or renting one or more of their hot rods for your party site. You can also contact a local motorcycle club to see about displaying or renting "hogs" to rev up your party site.
· If your budget allows, rent an old-fashioned jukebox. If not, use inflatable or cardboard versions for atmosphere.
· Hang rock and roll themed signs, posters and cutouts that will turn any room into a soda shop.
· Dig through your family attic, yard sales, thrift stores or flea markets to find a bunch of golden oldies .45s, LPs or old album covers to use to decorate your dancing den.
· The quickest way to give any room a '50s feeling is to use rolls of patterned paper with a record, soda shop or typical checkerboard design or vinyl "sugar shack" or sock hop cutouts. Or add a rock and roll or fabulous fifties border. Best of all, by using sticky tack you can put up any of these designs without ruining your walls!
· Light up your night with music note novelty lights.
· Just in case your guests don't come dressed or if you don't want to make it a total costume party, have a couple of accessories on hand to help your guests become part of your décor. Choose items such as music note or black felt fedoras and Blues Brothers, Elvis or retro sunglasses. Or, buy in bulk and outfit the crowd with a complete rock and roll accessory kit.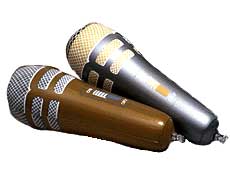 Activities - '50s Fun:
· Get everyone up to do the stroll, mashed potatoes Lindy, jive and other classic '50s party dances.
· Resurrect your old turntable to spin the '50s top tunes. If you don't have a turntable, you can still find some classic oldies CDs.
· Spin the Chubby Checker classic and have a Twist contest.
· "Rate the Record" just like they did on American Bandstand. "I give it a 90. It had a good beat!"
· See who can keep a hula-hoop moving the longest or spin the most hula-hoops at once.
· Hold a "Spotlight Dance." You can accomplish this with a large flashlight, disco or utility light.
· Rent or buy classic movies and TV shows from that era or films set in that period such as "Grease." You can find many classic sitcoms such as "Happy Days," "Father Knows Best," and "Laverne and Shirley" on the Nickelodeon channel and other cable stations.
· Have an acapella "doo-wop" contest.
· Put up a candy-filled, guitar piñata and let blind-folded guests take a crack at giving it a whack.
· See who can do the best yo-yo tricks or keep it spinning the longest.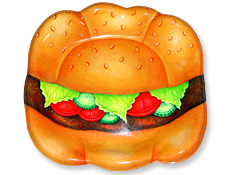 Soda Shop Staples and '50s Foods:
· Black and white check or black, white and pink are perfect table toppers. If you choose to use a solid cloth, use black and white checked paper products as accents.
· Soda shop staples included ice cream sodas, sundaes, malteds, milkshakes, pizza, burgers and fries. For added fun, you can serve hamburgers on reusable, plastic burger-design plates or pizza on pizza-shaped plates.
· Serve your guests TV dinners on snack trays, especially if your main entertainment revolves around watching '50s videos or movies.
· Here's another use for your old LPs. Cover with clear plastic wrap and use to serve hors d'oeuvres.
· Old LPs can also make a charming dinner plate charger for sit-down celebrations.
· Contact your Coca-Cola distributor to purchase classic Coke-filled glass bottles and serve with two straws. Many markets still sell those classic-shaped bottles along with their other soda selections.
· Dress like a soda jerk or carhop (including the roller skates) to serve your guests.
· Decorate a round cake with dyed-black icing to resemble a record and include the guest of honor's name on the "label." Or, just slip a disc whose label has been customized to the guest of honor on top of the cake. If you have a favorite record, many bakeries can duplicate it into an edible design that can be put on top of your cake.
· Use rock and roll bandanas as napkins and Slinky-style rainbow coils as napkin rings.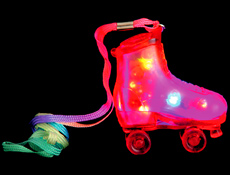 Click Here for all '50s party favors.
'50s Favors and Prizes:
· The party "rock and rolls" on for guests who take home a CD or tape of '50s classic hits ( You can burn or record these yourself.)
· Guys love playing "air guitars," so give them an inflatable version so they can rock around the clock.
· Show them you think they're a "good skate" with a glowing skate necklace.
· "Pin" them with a flashing LED guitar pin.
· Treat them like a rock star with a LED guitar necklace, Blues Brothers or retro sunglasses or a rock and roll bandana.
· Top off the celebration with music note fedoras or derbies.
· Snap a souvenir photo of your rockers and present it in a '50s theme frame.
Note: This plan includes just a small amount of party supplies available for a Fifties theme party. You can find more party products for this or almost any theme from our carefully selected suppliers listed below. Remember, supplies may be limited, so order early to ensure you'll get your party products in time for your party.

Check out the MakesParties Closeout Corner for Super Savings


Directory of Kid's Party Themes
Visit the PartyPlansPlus.com catalog for books, reports, and products to give your party plans a boost. Or want to track down the absolute perfect book for your event? Check out our Best Party Planning Books Page.

To get on the PartyPlansPlus.com mailing list for our FREE newsletter, simply enter your e-mail address below. Use your back button to return to this page. Periodically you will receive news and announcements about the latest in the world of parties and celebrations.


2006 – Phyllis Cambria – All Rights Reserved