Betty Boop – A '50s Boop-Oop-A-Doop Party Plan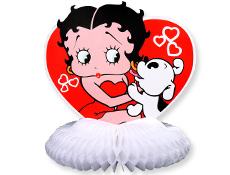 Click above for Betty Boop Products
Although Betty Boop was created in the 1930s,
this enduring and adorable icon is still wildly popular.
This party, while set in the 1950s, can be adapted for a girls-night-only, little girl's party or any time you need to boop-oop-a-doop with the ideas, tips and suggestions created especially for you by award-winning party planner and author Phyllis Cambria for PartyPlansPlus.com.
To make your planning even easier, we've included links
to quality products hand-selected by this party pro.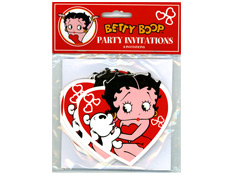 '50s Party Invitation from Betty Boop:
· Print your invitation on pink paper and "seal it" with a red lipstick kiss.
· Write your invitation and seal it in a Betty Boop "loot bag."
· Slip your invitation into a fishnet stocking and mail in a bright red envelope.
· Look for paper stock with a high heel pump or Betty Boop design to create your own custom invitations on your computer.
· Let Betty do the work for you with a pre-printed invitation.
· Invite your female friends to come dressed as Betty Boop.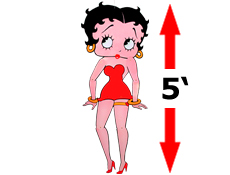 Decorations - Betty Boop's Beauty Boutique:
· Go to thrift stores, flea markets and online auctions to find Betty Boop-style clothes to display around your party site. You also can rent or buy Betty Boop costumes. The best thing about Betty is that she had a variety of styles from swimwear to Biker Betty to pin-up attire. Her clothes were usually short and flirty, so have fun picking up outfits that would be beautiful on Betty or your friends.
· While you're looking for clothes, keep your eyes peeled for a variety of high-heeled, pumps in Betty Boop style. They'll be adorable additions to your decorations.
· Of course, you also can find a large collection of clothes that have licensed Betty Boop designs.
· Having your female friends dressed as Betty will give you moving décor. But if you choose not to do that, give your gal pals a red, black, white or red and white feather boa. It will not only add to the atmosphere but it will help to get your guests in the mood to boop-oop-a-doop.
· And, don't forget, Pudgy. He was Betty's little white dog. So put up a couple of stuffed white dogs around your site.
· Drape red, black, white and pink or Betty Boop design table covers around your space. Hang on your wall with sticky tack to add style to your scene. For added interest, add red, real lip prints to the white and pink cloths. These backdrops will make the ideal backdrop for instant or digital photos of your friends that you can put into heart-design or plain white frames you've accented with red lip prints. Taken early in your party, these framed photos can be used as décor, place cards and guest gifts.
· Set up a dressing room area complete with a vanity (a small table covered with a frilly fabric and a large mirror would work) table. Add lipsticks, rouge, false eyelashes, hair bows, bobby pins (to make pin curls) and hairspray so your friends can have fun dressing up.
· Rim the room with Betty Boop banners.
· Your guests will get giggles and grins when they go to the powder room and find you've put in heart-design toilet tissue.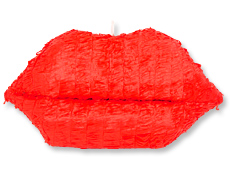 Boop-Oop-A-Doop Activities:
· Hold a Betty Boop cartoon festival. These are available for rental or purchase on DVDs and VHS formats. Or, scan the Cartoon Network which often airs Betty Boop cartoons and tape several of the shows to show at your party.
· Betty's Grampy was always coming up with clever inventions to do simple tasks. Challenge your guests to design and bring in their own clever contraption. It doesn't have to be as elaborate as Grampy's versions, but it would be fun to see what they come up with. You can even hold a contest for "The Most Clever," "The Most Elaborate," "The Cutest," "The Most Practical" and so forth.
· Invite guests to do their best Betty Boop impression.
· Host a Betty Boop look-alike contest.
· Hold a Betty Boop trivia contest. You can find great information in books and all over the Internet but especially on her official site at www.BettyBoop.com.
· Let guests have fun taking a whack at a treat-filled red lip piñata.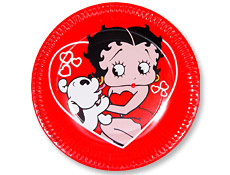 Click here for Tableware with a Betty Boop Theme
Refreshments and Table Toppers - Boop Beverages, Buffets and Bon-Bons:
· Sweet treats and tea party dishes are essential for this celebration. Offer a variety of petit fours, dainty sandwiches (cut into triangles or use heart-shaped cookie cutters for added charm). Put on tiered, fancy cake or candy stands you own, borrowed or found at garage sales, tag sales, flea markets or thrift stores.
· Strawberry sundaes and milk shakes would be scrumptious in glowing red glasses.
· Think pink! Serve pink cotton candy, strawberries and cream, strawberry Jello or strawberry shortcake.
· For grown-up occasions, serve Cosmopolitans and pink champagne. For little girl parties, try pink punch and Shirley Temples. For added interest, put into a red, glowing cocktail glass.
· Drape red, black, white and pink or Betty Boop design table covers on your dining or buffet table. You can add either pre-printed Betty Boop paper goods or red, pink or black paper products. Keep to one color scheme or mix and match your designs.
· Tie red, black, white or red and white feather boas to the backs of your chairs and/or to your curtains as tie-backs for fluffy fun.
· Make up packets with red flatware rolled into contrasting red, black, or pink napkins or pre-printed Betty Boop napkins. Slip into Betty-style pumps as utensil holders for a buffet. Or set up a sparkling shoe (paint or glitter if you like) at each place setting. Paint each guest's name on the shoe's heel and slip the flatware packet inside the shoe. This presentation works well as a place card, decoration and party favor.
· Attach red, black, white and pink balloons to a pair of Boop shoes to serve as a centerpiece.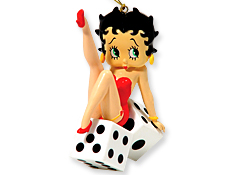 Betty Boop Favors and Prizes
· Give the girls red, black, white or red and white feather boa.
· They'll kiss you over these lip print sunglasses.
· Tubes of red lipstick will give your gals glamour.
Note: This plan includes just a small amount of party supplies available for a Betty Boop theme party. You can find more party products for this or almost any theme from our carefully selected suppliers listed below. Remember, supplies may be limited, so order early to ensure you'll get your party products in time for your party.