GEARING UP FOR GRADUATION 2004
Whether your grad of honor (GOH) is graduating from pre-school, grade school, middle school, high school, college or grad school, graduation is a milestone in life that requires a celebration.
Here are some ideas that can be adapted for whatever stop along the education stations your grad has achieved.
INVITATION
| | |
| --- | --- |
| | Create a sheepskin-type scroll using off-white parchment or erasable bond inviting guests to your grad's goings-on. Tie with a ribbon and mail in a mailing tube or one you've created from a paper towel or gift wrap cardboard roll. |
| | Send a collage of graduation photos of your GOH when your older guest of honor graduated from past schools. |
| | Write your invitation on a paper mortarboard cap |
| | Choose a pre-printed dignified or festive graduation party invitation to alert your guests of your grad gala. |
| | TIP TIME: Even if you are having an open house, be sure to request an RSVP to find out how many guests are coming and when they are planning to arrive so you can calculate your food needs. |
ATMOSPHERE
| | |
| --- | --- |
| | Line your walkway with school pennants (bought or easily made with felt, glue and wood dowels) or pompoms either noting the school (or school colors) your GOH has just left or the one he or she will be next attending or both. |
| | If you're in a hurry, select a colorful and complete graduation decoration kit to spruce up the space. |
| | Let the neighborhood know how proud you are with a banner on the outside of your house or garage door saluting your GOH. |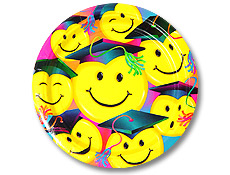 | | |
| --- | --- |
| | Choose an elegant , festive or smiley or Hats Off party goods design that suits your GOH's style. |
| | Headed for the East Coast? Fete your grad with the Ivy League designware. |
| | This is a great time to recycle or use up the decorations you bought for your 2004 New Year celebration or those you can find on sale. |
| | Since their future is so bright they have to wear shades, give everyone a set of 2004 glitter glasses |
| | Put snacks and crackers in mortarboard-shaped bowls and trays. |
| | Use personalized mortarboard caps as place cards and favors. |
| | |
| | A gala table with a grad centerpiece, memento glassware and napkins and more. |
| | Scatter diploma confetti on your party tables. (So they won't blow off in the breeze for outdoor events, spread the confetti and then "set" them in place with a light dusting of hair spray.) |
| | For evening events, line your walkway with luminarias you created from graduation-theme snack bags or ones in school colors using sand, votive candles and a paper punch. |
| | More than your grad will glow when you use glow bracelets in the school's colors for napkin rings. |
| | For high school or college grad, drape your space with school loan applications, recruitment brochures, job applications and/or "help wanted" ads. |
| | Fly the Hats Off To...mylar balloons to celebrate your grad. |
| | |
| --- | --- |
| | Your shining star grad will love this table of honor centerpiece |
ACTIVITIES
| | |
| --- | --- |
| | Graduating is no easy shake unless you use school-colored maracas or pompoms to set the beat. |
| | There will be giggles, guffaws and grins as your crowd dances to nostalgic tunes in a graduation collection of party hits. |
| | Play "match the year" with an array of class photos of the grinning grad throughout his or her school life. |
| | Grab the grad's mortarboard cap and play "pass the hat," a variation on the old hot potato game. |
| | Everyone enjoys a round of "Name That Tune," so use a collection of songs popular in the last decade for a mostly student party or include a collection of rock classics for a party with lots of folks of different ages. |
REFRESHMENTS
| | |
| --- | --- |
| | Serve a collection of your grad's favorite "snack attack" food in mortar board plates. |
| | For general advice on what to serve and how much, read the informative article found here . |
| | If your GOH is going away to school, serve dishes from the cuisine made famous in the city or region he will be living in. |
| | Ask your guests to bring along a favorite dish of theirs that the GOH enjoys. |
| | Set up a pizza, fajita, taco, hamburger and/or dessert bar so guests can have interactive fun while designing their meal of choice. |
PRIZES, GIFTS and FAVORS
| | |
| --- | --- |
| | A personalized photo album or a frame--(click on photo) both grad gifts to make a special memory. |
| | An address book to exchange contact information will be a treasured gift when your GOH and his or her friends are feeling homesick and want to get in touch with the folks and friends from home. |
| | The memory of this day can be preserved, set aside to be opened in a year or a decade. A Graduation Time Capsule is the perfect gift for the grad and his family. |
Set up a free web site for your grad and have free business cards printed with the web site address on them. Put a guest book on the page so friends and family can keep in touch via messages.

Self-addressed, postage-paid postcards and notes will help your guests stay in touch with each other and are a quick way they can write home for money.

Choose a pre-paid phone card so guests can keep in touch with your grad.

Sam's club has great rates.

For a grad who is going to be on his or her own for the first time, give them a free downloadable collection of recipes and story excerpts found in "Cooking By The Book" available here .
Arrange photos of the grad...grade by grade for a wonderful framed photo history.
Priced for buying more than one!! $12.98 each.

***A FREE GIFT!! ***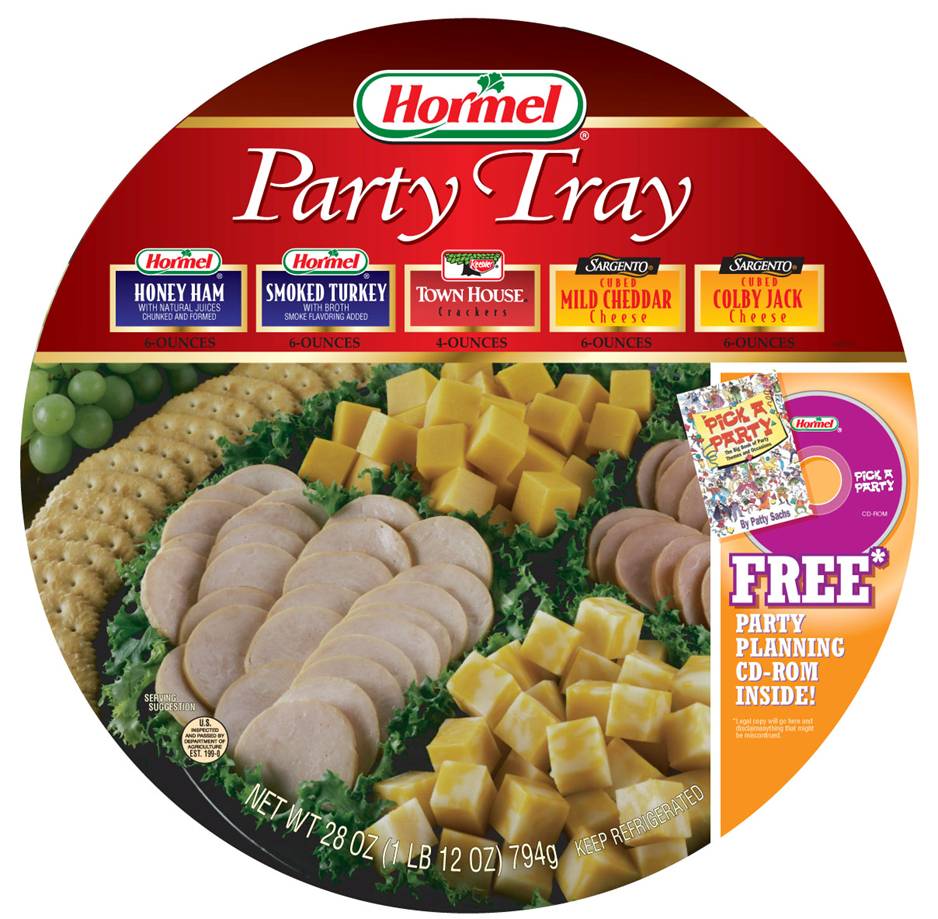 Look for Patty's Pick A Party Book on interactive CD Rom. Packed on Hormel Party Trays in the deli section of your favorite supermarket! The whole book is on the CD, programmed for easy selection and matching of events. Great for planning any party for any occasion. Don't miss out...get yours now.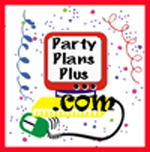 FoiFor information on getting your custom party design or a review of your party plan to prevent any pitfalls and to add some professional pizzazz. Click Here