Theme Party Goods Directory
The Biggest, Most Complete List of Party Themes

When possible, we have listed more than one source for a theme so that you can check both for all of your theme party supplies. In some cases you will find additional items on a site such as cake decorating or decorations. If neither has what you are looking for be sure to e-mail us and we will gladly try to help you find it. We have listed some new themes that are pending for publication. As soon as they are released we will be listing their sources.
More Bargains in Party Kits (Check now!!)
If you do not see the theme you want just e-mail us and we will do our best to help you find it.
First Birthdays Teens Parties Adults Parties Holidays Occasions Total Party Plans
Kid's Parties
ABC DEF GHIJ KLM NOPQ RSTU VWXYZ
Barney's 1st Birthday
Teletubbies 1st Birthday
The Rest of The Birthdays
1. Blues Clues
2. Blues Clues
1. Bratz
2. Bratz
1.Caillou
2. Caillou
1.Camo
2.Camo
1. Care Bears
2. Care Bears
Digimon
1. Disney Gang (on sale)
2. Disney Gang
Dragon Tales
1. Elmo's World
1. Finding Nemo
2. Finding Nemo
Franklin
Grinch
Harry Potter Movie Prisoner
He-Man Masters of the Universe
1. Hello Kitty
2. Hello Kitty
Hot Wheels (High Performance)
1. Hulk
2. Hulk
Jungle Book
Justice League (the Super Heroes)
1. Kim Possible
2. Kim Possible
Little Bear
Looney Playful Pals
Lullaby Dreams
Motorcycles
1. My Horse
2. My Horse
PR Ninja Storm
Prehistoric Party
1. Puppy Party
2. Puppy Party
Raggedy Ann & Andy
1. Sharks
2. Sharks
1. Spiderman
2. Spiderman
2. Sponge Bob
Suzy's Zoo
Tarzan
TeleTubbies Any Age Birthday
Tinker Bell
Tonka
1. Veggie Tales
2. Veggie Tales
1. Wiggles
2. Wiggles
Wild Thornberrys
Wizard of Oz
1. Yu-Go-Oh
2. Yu-Go-Oh
Sports
Hockey
More Sports
Teens Parties
Polka Dot Party (Generic Festivity)
Adult Parties
More Mardi Gras Mania

Music Rock and Roll
Holidays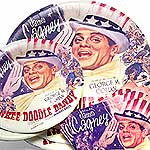 Special Occasions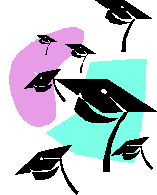 Ages Party Goods and Napkins 50, 60, 70, 75, 80, 85, 90, 95, 100
Petals and Pearls Wedding/Anniversary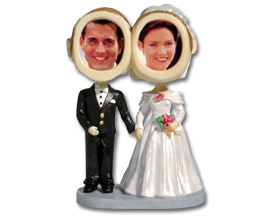 Fantastic shower or wedding decoration, favor or gift.
Baby Shower Themes (click for all of the listed themes)
Baby Plaid Tartan


Baby Rhymes



Care Bears


Debbie Mumm's Baby Carriage


Humphrey's Corner


Looney Babies Shower



Pooh's New Beginnings



Rubber Ducky
More Baby Shower Themes (Click for all of the listed themes)
Plush Bear Deluxe
Pooh Woodland
Precious Moments
Welcome Little One
Soft and Sweet
Lullaby and Goodnight
New Precious Moments
Even More Showers Click for these themes.
Noah's Ark
Soft and Sweet
Religious Events
Baptismal, Christening, Communion, Confirmation
Total Theme Party Plans for any occasion:

Party Music for the Whole Family

Create personalized frames for your instant photo party favors. The hit of any theme party!

Why send a greeting card when you can send a Greeting Cake! The greeting that gets baked by the recipient for an instant celebration!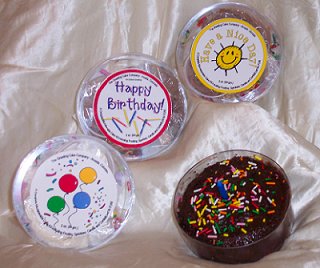 FAST-LITE CANDLES
MAKE THE WOW!! AT YOUR PARTY

Incredible Invitations for those Incredible Parties
Personalized Photo Cookies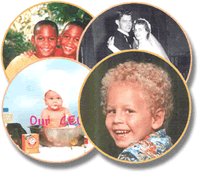 Picture your loved one or business logo on an edible cookie party favor!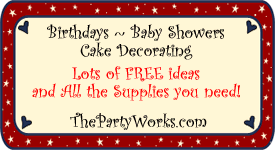 And Even More..
Back to PartyPlansPlus.com Home Page
.

Back to PartyPlansPlus.com Home Page