Beach Bash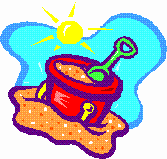 Exclusively for you
by
PartyPlansPlus.com
(Complete with links to product and how-to information)
You pick the spot--beachside, poolside, or living room--here's the perfect plan for some surfside fun.
Invitation Ideas
Entertainment
Decor
Refreshments and Serving Ideas
Party Favors/Prizes
NOTE: The products we mention in this plan go in and out of stock quickly so some that you link to may be sold out. If you have any requests please contact us and we will try to help you find them.
Total Beach Party Goods Here Beach Party
For a full range of party supplies for every theme and occasion visit the companies below:

Plum Party is another great site for great Beach Party Goods

Directory of Kid's Party Themes
Visit the PartyPlansPlus.com catalog for books, reports, and products to give your party plans a boost. Or want to track down the absolute perfect book for your event? Check out our Best Party Planning Books Page.

To get on the PartyPlansPlus.com mailing list for our FREE newsletter, simply enter your e-mail address below. Use your back button to return to this page. Periodically you will receive news and announcements about the latest in the world of parties and celebrations.