You'll find novelty photo favors and supplies plus incomparable customer service.
If you do not see what you want please e-mail or call with questions.
Patty Sachs: [email protected] 763-432-3395 CST (9-6 p.m. CST)
Bobble Heads
Let's face it Photo Bobble Heads offer a unique way to personalize a novelty frame. Each features a slip-in photo area that holds a 1-13/16" dia. trimmed photo and stands approximately 6-1/2" tall. Select designs are available in a darker skin tone noted by DST. Custom Bobble Head designs are available.
The Best Bridal Bobble Head Couple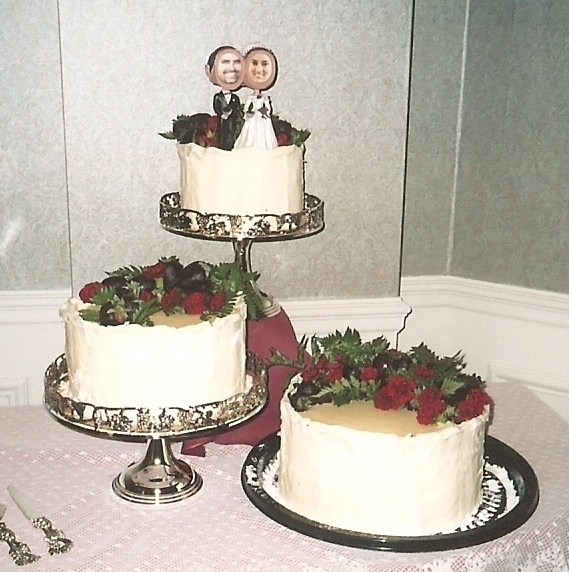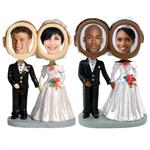 These cute bobble heads are the hit of the wedding as bridal party gifts, take-home favors, clever accents in table centerpiece designs--even cake toppers and more--as your imagination allows. They are easily customized with your couple's photos. We can customize for you with hair colors, bridal colors, etc. Additional cost for customization: $5.00 each. For a total of just $10 each you can have the basis of a fantastic table centerpiece.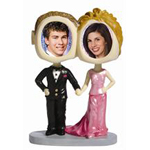 Wedding Party/Prom Couple
Can be customized with wedding colors. (addl. cost)
Packs of 12 @ $55.00 Per Pack (Best Price on the Net!)
Order Wedding/Prom Bobble Heads Here:
Adorable 6 1/2" Tall Photo Bobblehead Frames that showcase your favorite photos! Each one has a sturdy base for display on any flat surface. Just insert picture in top slot (includes a protective mylar lens). Use the lens as a template to trim your photo to the exact size you need. Approx. image area 1 3/4" circle. Great for all prints including Ink Jet, Video Prints, Color Laser Copies, Fuji and 35mm prints!
We have all these bobble heads as well!
Basketball Soccer Football Baseball
Golf La Crosse Hockey Car Racing Snow Boarder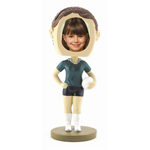 Volley Ball Softball Tennis Cheerleaders
Hip Hop Boys Hip Hop Girls Martial Arts Ballerina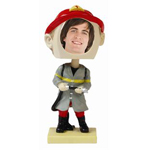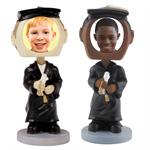 Fireman Policeman Soldiers Graduation
The single Bobbleheads are $51 per dozen pack. ($4.25 each)
(Wedding/Prom couples above) bobbleheads are $75.00 per dozen pack. ($6.25 each)
***There is a $10 pack-breaking fee for orders of less than full- dozen packs.
E-mail for pack-breaking, further ordering information or personalizing information.
Custom bobblehead orders.
E-mail for information on Customized Bobblehead Frames (Minimum 500)