Executive Etiquette – Tips for Entertaining for Business
by
Phyllis Cambria and Patty Sachs
Authors of The Complete Idiot's Guide to Throwing a Great Party
for
PartyPlansPlus.com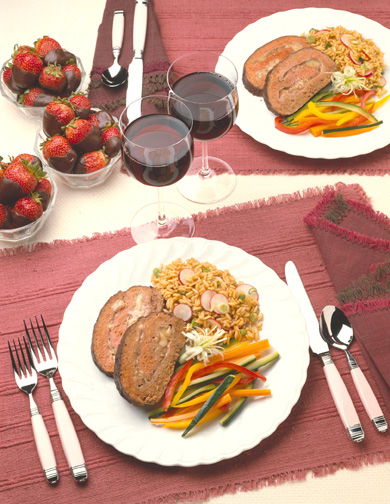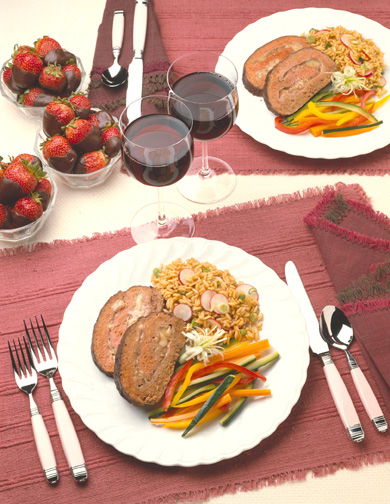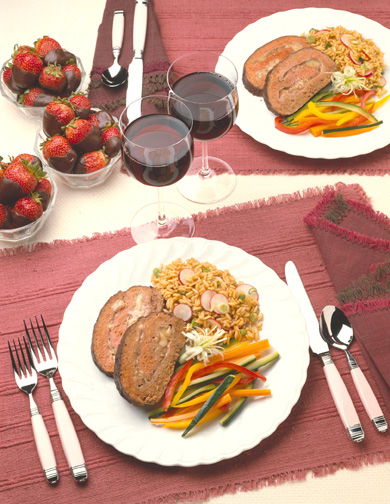 To succeed in business, it is as important to understand the etiquette of entertaining in your dining room or a restaurant as it is to know how to negotiate in the board room. Keep these tips in mind when it's time for you to play host to clients, other executives or business prospects.
At-Home Entertaining
· Offer a beverage and something to eat within minutes of your guests' arrival.
· Feel free to offer an alcoholic beverage, but don't force the issue. Have plenty of non-alcoholic beverages on hand as well.
· If a guest seems to be drinking too much or too quickly, slow down or stop refilling their drink or advise your bartender to do the same. Just be sure the water glasses are kept full.
· Limit your own alcoholic consumption.
· If a guest over-indulges, arrange alternate transportation and deliver the guest's car to his or her home to avoid his or her further embarrassment.
· Greet your guests upon arrival and hang up their coats. Don't just toss them on a bed. (If you need extra hanging space, you can rent a coat rack.)
· Don't put on airs.
· If you don't normally have serving or cooking help, don't hire a wait staff person or chef and act as if you have help all the time. However, it is perfectly fine to hire someone to serve at an important dinner to allow you to be seated with your guests.
· Feel free to use "the good stuff," but don't run to the department or rental store to secure solid sterling pieces just for the occasion and then behave as if these were family heirlooms.
· If preparing the meal yourself, keep it simple so that you and/or your spouse can spend as much time as possible with your guests as and not appear like a "jack-in-the-box" jumping up to check on a dish or make last-minute preparations.
· If the meal requires the attention of both you and your spouse (or co-host), alternate. Don't leave your guest(s) alone.
· Avoid messy courses (fried chicken, barbecued ribs, whole lobsters and so on) except for the most casual occasions.
· Play music that's conducive to the situation and keep it at an appropriate level, not something that will compete with the conversation. If you notice people leaning in to hear each other, the music is too loud.
· If you have children, by all means introduce them to your guests. However, except in the most casual, family-oriented situations, arrange for a sitter to feed your children in another room and to keep them occupied elsewhere.
· Check with your guest(s) about any food allergies or preferences. If this is awkward, check with that person's personal assistant.
· Keep the table centerpiece and candles lower than 16-inches in height so they won't interfere with conversation.
· Arrange for convenient parking or valet parking, especially in areas that experience winter or wet weather or where parking is at a premium.
· If you are entertaining several couples and one couple is late in arriving, do not hold the dinner and inconvenience the others. Politely greet your late guests and have them join in and catch up.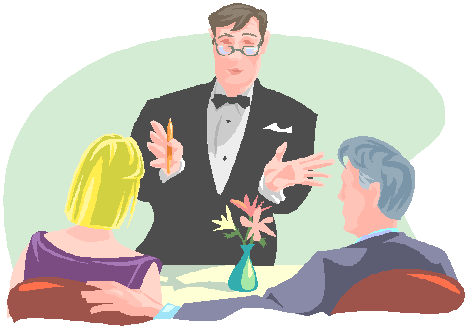 Restaurant Entertaining
· Offer to let the guest choose the restaurant. If the person hesitates, propose several alternatives, preferably with a range of cuisines, that you have dined in previously. This will enable you to be confident in the restaurant's quality and to make menu suggestions if asked.
· Make prior arrangement's with the restaurant's captain for a table placed in a desirable location to allow for privacy if you plan to talk business.
· Subtly arrange with the waiter to give you the check, make payment arrangements before you arrive or discreetly turn over your credit card early in the evening to avoid a possible "who-grabs-the-check?" debate.
· Even if you know what your guest plans to order, let him or her place the order himself or herself.
· Allow your guest (or senior or most important guest if there are several) to choose the wine, if applicable. Again, if the guest hesitates, if your knowledgeable, make a suggestion or ask the restaurant's waiter or sommelier to recommend a wine or wines.
Entertaining Spouses
· If you're married and spouses are included in the plans, once your guest has accepted your invitation, particularly for an at-home event, have your wife or husband extend a personal invitation to your guest's spouse or close companion. This will make that person feel truly welcome.
· If you have invited guests under the guise of a social evening, keep talk of business to a minimum.
· Engage your guest's companion/spouse in conversation. It would be ideal to find out a little about this person's interests, hobbies or occupation to start a conversation that will set them at ease.
· For social occasions, seat spouses apart to encourage lively conversation; preferably seating your guest of honor's spouse or guest by you and your guest of honor by your spouse.
· Choose several possible topics of conversation based on common current events such as movies, a televised special, popular books and the like in case of a lull in the discussion. However, as always, avoid controversial subjects such as religion, politics or other inappropriate topics.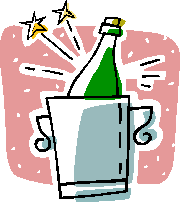 Toasts
· Before beginning your toast, rise (if it's a small party, you may remain seated), face the person you are toasting and raise your glass.
· Keep the toast short – from a few seconds to under one minute. After all, it's a toast, not a speech.
· If you're not ordinarily glib, write down what you want to say and rehearse it.
· Try to say something original, rather than a quote from a book of toasts, unless it is particularly appropriate to the situation.
· Feel free to add a little humor or your personality to the toast. You may even add an anecdote about the guest of honor. However, NEVER:
· Divulge personal information.
· Betray a confidence.
· Relate an embarrassing situation. Remember, what you might find to be humorous, might be uncomfortable to your guest.
· Thank a guest for their business. Instead, thank them for their intelligence, humor, friendship, ethics or the like or toast their health and wish them good fortune.
· Use the toast as a way to pressure someone into giving you business, whether it's done in a humorous way or not.
· When you are finished with your toast, if the person you are toasting is nearby, GENTLY clink their glass. If they are a distance from you, briefly raise your glass higher. Then, sip and sit.
· If you are being toasted, it is polite to return the favor and briefly toast that person or thank them. Never stand nor drink when you are being toasted.
General Etiquette
· Advise your guests of the type of dress expected. ("It's a very casual barbecue," "I'll be coming straight from the office, so I'll still be in my suit," "The restaurant requires a jacket and tie," or "It's a black tie event.")
· If you are the one who has been entertained, send a handwritten (not e-mail) note the following day thanking your host(s). For a home event, sending flowers that day or the day after is always a gracious touch.
· As the host, your guests are expecting you to start eating first. Don't delay their dining pleasure by making them wait until you sit or start to eat.
· When entertaining guests of another culture, research their customs. Many western practices are considered bad manners in other countries. At the least, learn to say "cheers" in your guest's native language.
· British - Cheers!
· Chinese - Wen Lie!
· French - A votre sante!
· German - Prosit!
· Greek - Yasas!
· Hebrew - L'Chayim!
· Irish - Slainte!
· Italian - Alla Salute!
· Japanese - Kanpai!
· Spanish - Salud!
· It is better to seat yourself in the middle of a table, opposite of or surrounded by your guest(s) of honor, rather than placing yourself at the head of a table.
Gifts and Favors
In many situations, a token gift or favor is in order. In most cases, offerings should be non-commercial, that is, without your logos or sales messages to really qualify as a gift. Items imprinted with your company information is categorized as an advertising specialty or premium. However, it is most hospitable to give a gift that has been personalized with the guest's name.
It is considerate to give a gift that is easy to transport when entertaining out-of-town guests. Gift baskets with perishables or liquids are often left behind due to the inconvenience of packing it up and carrying it on a plane. There are many very portable gourmet gifts like candy, coffee & tea, packaged soups, sauces, etc. if you like to give those sorts of things. Otherwise, garments, jewelry, gadgets, organizers, and clocks can be imprinted for gift-giving.
Guests photos taken at the event and presented in stylish frames make a nice, personal take-home gift. If awards or presentations are made, a DVD recording of them sent after-the-fact will make a welcome gift.
Most of all, remember if something goes wrong, minimize it. Graciously acknowledging a faux pas or a problem and maintaining your sense of humor will go a long way toward showing that you are as effective and adept on the social scene as you are in business.
InstantPhotoFrames Event Gifts
Phyllis Cambria and Patty Sachs Bio Pages