Greetings Party People!
The PartyPlansPlus.com newsletter for Springtime 2008 has been
placed on this page for your convenience in referring back.
Add it to your favorites list.
MEMORABLE MAGNOLIA MEMORIAL DAY
This very clever party plan works for Memorial Day or any occasion that lends itself to Southern Hospitality and/or a Gone With the Wind motif. The delicious food and beverage options, colorful decor and old South atmosphere just shout Y'all Come!
http://www.partyplansplus.com/memorialday.htm

FOR GRADS OF ALL DEGREES
It can be a party for a pre-school or an advanced degree grad or all the degrees between--the party components are the same. In these plans you will find ideas for every element starting with an appealing and enthusiastic invitation, advancing to appropriate decorations, refreshments, activities and ending with thoughtful and personal party favors. The plans appeal to a wide range of budgets and personal tastes and focus on the personalization of details to match the Guest of Honor's interests and goals. http://www.partyplansplus.com/grad08.htm

HOSTING A BABY SHOWER?
Ms. Phyllis has contributed some excellent ideas to this article "5 Hints for Planning a Baby Shower Buffet" including the use of baby food jars as individual dip holders. I see way more than 5 hints...so will you.
http://www.lifescript.com/channels/healthy_living/Family/5_hints_for_planning__a_baby_shower_buffet.asp?page=1


FATHER'S DAY SPORTSMAN SALUTE
Pick Dad's favorite pastime sport and build a party around it. This plan highlights fishing but you can easily substitue details of other hobbies to customize your plan for Pop!
http://www.partyplansplus.com/father.htm

SAVE THE DATE CARDS FOR ANY OCCASION
This is a clever way to send an invitation and "save the date" sticker that you've printed out on your laser or inkjet printer. Guest love these gentle reminders.
www.Savethedatestickers.com

CONSIDER WEDDING INSURANCE
The Wedding Protector Plan will ensure against such glitches as emergency dress repair (stats say that the most common mishap occurs with the wedding dress with an unexpected, last-minute cost), occurances like severe weather or withdrawal of military leave, causing cancellation or postponement, forfeited and lost deposits, and more. Also can get host liability insurance and add the venue as an additional named insured. Worth investigating when for as little as $160 you can get the Wedding Protector Plan. http://www.protectmywedding.com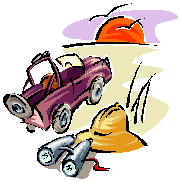 PLAN A SURVIVOR SUMMER SAFARI
Here's a great summer party plan for the fans of the hot TV show, Survivor created with a Safari theme. You will find it at: http://www.partyplansplus.com/safari.htm

REUNION THIS SUMMER?
Visit our friends at Reunions Magazine for a total planning workbook (on special for just $5.00 now) and hundreds of ideas to inspire you in your planning project. Join the message board there to collect ideas from other planners and committees.
http://www.reunionsmag.com/

SUMMER BOWLING PARTIES AND EVENTS
Bowling is a great theme/activity for parties and gatherings for the whole family. This site has everything you will need to follow your kegler theme. http://www.bowlingdelights.com/?SSAID=115712

HONOR SOMEONE WITH A FAME FRAME
This is a hard-to-find gift to commemorate a retirement, birthday, promotion or Father. Your guest-of-honor's biz card along with those of famous achievers framed handsomely for a special gift.
http://www.thefameframe.com/servlet/StoreFront
What a wonderful gift or memorial...a customized personal Webs by Suzie. Artistically and sensitively created, blending music, poetry or personal message, photos and lovely web art...to commemorate any special occasion. From the spiritual to the silly, she can take your message and make it a cyber celebration. Very reasonably priced. Visit the site for samples: WWebs by Susie


HERE'S THE TICKET FOR EVENTS!
At www.tlcIT.com, you can purchase raffle tickets that can be customized for your event and used in a variety of ways. Not just for drawings, but as clever invitations, concert or event admissions, sales discount tickets and fun greetings attachments.
Item # 411208 is called the Starter Kit and offers 400 tickets, and a great software program to design your tickets.
Then, once you've purchased the software, you can find a refill kit listed as item # 411210. This has 800 tickets for the same price as the starter kit! What a deal!

FREE PROMOTION ON EVENT DIRECTORY SITES
If you have a company or product that serves the party/event/wedding market you might want to investigate the following sites for a free listing. You can upgrade for just a little, in most cases, and get priority placement but a basic listing is free.
www.alltimefavorites.com (This service sends you leads to follow.)
www.enQuira.com (You get quite a bit of space to promote your company for free.)
www.cowboy.com (If your business appeals to the western market, you have a great opportunity here.)
www.kudzu.com (This site lists according to city location and also affords space and photos to enhance the listing.)
www.EventShopper.com (Another place to network with other vendors and clients.)
www.eventspace.com/ (Yet, another networking place for event professionals.)
www.eventplanner.com (Listing free, very inexpensive upgrade for a year. Busy site)
www.gatheringguide.com (Basic listing in the Event Planning area is free for you.)
And then there is PartyPlansPlus.com Links List for another place you can register your business information for potential sales and bookings. Once this list is built it will be a primary place to be placed. It is free. http://pub37.bravenet.com/freelink/show.php?usernum=3101624327

PARTY FAVORS WITH A KICK!
Visit http://www.KickPrints.com for a great variety of creative party favor ideas--one just perfect for your event/party. Individualized and customized to fit your theme or occasion. It is the take-home favor that lets the party keep going long after the confetti is swept up. Have fun!
HOW-TO BUSINESS ADVICE FROM BEVERLY CLARK
This is neat newsletter that is filled with guidance help on running your business, promotion, marketing and customer service from Beverly Clark Enterprises, highly successful in the wedding business.
http://www.beverlyclarkenterprises.com/_ecampaigns/bcht/subscribe.html


MAXINE BAIRD'S CELEBRATION INDUSTRY NEWS
Sign up for the Celebration Industry newsletter and Message Boards, plus access for entrance into the extensive marketing information. http://docs.google.com/Doc?docid=dgtbh52k_735fpmpvvgd&hl=en


SEND GREETINGS WITH POLAROID PHOTOS
Colorful and unique pop-up frames w/envelopes are ideal for party favors, mailed greetings, invitations, birth/wedding announcements, thank you notes and promotional photos. Space for photo on one side and for a written message or event information on the other side. Cute used as a photo place card at kid's parties. Not available elsewhere. Only .50 each. Got to see them. http://www.partyplansplus.com/popups.htm

GET MORE BANG FOR YOUR GOVERNMENT STIMULUS CHECK
Want to make your stimulus check grow by 10%? Then, bring it to Sears, Kmart, Kroger, Cub, Home Depot and many more. These stores are offering a 10% bonus to customers who redeem their stimulus checks for store gift cards. That's great news if you are planning a special event and will need paper goods, decorations, props, gifts and/or food items. Or buy summer clothes for yourself and your kids. And, if you purchase items on sale, you'll enjoy an even larger savings. Check for a growing list and details. http://moneysavingmethods.blogspot.com/2008/05/it-is-officially-stimulus-check-bonus.html