You'll find
novelty photo favors and supplies plus incomparable customer service.
If you do not see what you want please e-mail or call with questions.
Pouf! Instant Photos Make the Party
And Beautiful Memories...
Super for Wedding Party Favors
Did you know that with the universally recognized point, click and whir of a Fuji 210 instant or digital camera you can add a variety of fun and festive touches to your party? That in addition to capturing the highlights of your special event with instant-rewarding souvenir pictures, you can plan games, decorations, gifts and favors around them? For a picture perfect party plan feature several of the following party ideas for guest entertainment and mementos.
Photo Opp(ortunity) Offers…
· Send an Fuji instant photo of the Guest of Honor holding a sign bearing personalized invitation information. This is exceptionally clever for an event planned with a "photography" theme for a guest of honor "shutterbug."
· Send a digital or Fuji instant photo as a first clue with a Mystery Party invitation.
Photos For Starters…
· Take a photo of each arriving guest or couple and place it in a plastic easel back frame as a seating assignment on the dining table.
Affix instant or digital photo of a guest on a festive paper plate and cover with a clear plastic plate to set at his place. After food has been consumed the protected photo plate can be kept as a souvenir of the event.
· Take a photo of each arriving guest, number and post it on a "Party Mixer" Bulletin Board. Challenge guests to show their "know-who" by completing a form with guests names to correspond with photo numbers. Conduct a drawing from entries for festive party prizes.
· Take digitals or instant photos of Surprise Party pre-arrival antics and display on a large poster to complete the party picture for the guest of honor and host.
Photos for Fun…
· Conduct a Fuji Instax photo Scavenger Hunt. Send guests in teams, armed with Fuji cameras and a list of "locations and situations" to photograph. This is a fantastic "photo finish" party plan guaranteed to make a lasting impression on guests of all ages .
· Take photos of kid party guests cozying up to a costumed character or performing a special party activity. Send the photos home in a cardstock frame hand-decorated by the guests themselves.
· Photograph Mom and Dad sitting on Santa's or the Easter Bunny's lap for a fantastically popular "What did you bring me?" gift for kiddies.
Pick one of the popular Standees to use as a themed photo opp for your guests.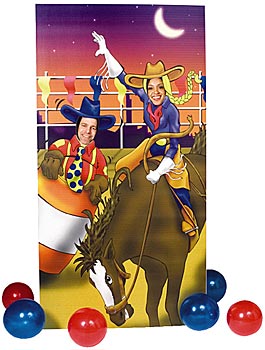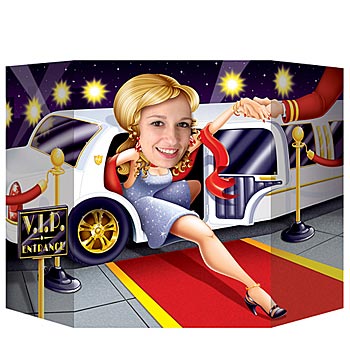 For a guest couples or individuals a hit photo souvenir.

Snappy Souvenirs…

· Take a souvenir photo of guests, especially at costumed and dress-up events. Not only do the photo sessions make a popular party activity but when presented in a customized frame, the keepsake photos are a truly appreciated take-home gift. Create a decorative photo background or setting with a banner or backdrop to follow your theme.

Note: Festive holiday themed frames can be purchased for. $20-25 per 50 frames. The plain white ones can be decorated to match your themes and occasions. For photos of styles and ordering information

· Create party favors with great face value from Fuji Instax photos imbedded in special mugs, key chains, paper weights, buttons, etc.

· Add a small strip of self-adhesive magnetic material to the back of an instant photo to create a fun fridge or file cabinet magnet.

Post Party Photos…

· Make up an "Important People" album of name Id instant or digital photos taken at a First Birthday Festivity. In days to come the child will study the clearly labeled photos and will learn to put names with faces—and even to read.

· Be a picture perfect guest and take instant photos of special party highlights to present to the host as a show of appreciation. Tie them with a pretty ribbon.

· Take a Fuji photo of your guest of honor holding each party gift and send photo along with thank-you notes. So often gifts are not opened at the party so this acknowledges the gifts in a personal way.

· Offer digital shots of party decorations, centerpieces, costumes or buffet table spread for any future party hosts idea file.

These can even be used on a personal website, documenting the party.

Tip: Take photos of the tables and site decor before the guests arrive.

Photos for Funds…

· Selling take-home souvenir photos will add considerable cash to your charitable event proceeds. Provide props, costume effects and a colorful setting for either glamorous or gimmick photo sessions. Add a clever customized frame for maximum money-making.

Sell above-mentioned items like photo mugs, buttons, key chains and more. E-mail Patty for Information on these products.

Visit our brand new Closeouts Page today! Find some great savings for fall and winter events.

Take advantage of reduced prices on products we're clearing out to make room for all of the new arrivals.

Quantities are limited so act fast, when they're gone they're gone. All Sales Final!

Visit other areas of our site for even more

incredible party power!

Visit this site for rare and collectable Polaroid supplies. They have some very special items for lovers of Polaroid photos. http://www.polapremium.com

Complete Photo Frame descriptions, pricing and ordering!

Back to our home page for PartyPlansPlus

Great ideas for parties and gifts. Party Mall