* Dangle colorful inflatable eggs over your dining table or from your chandelier.
* Drape your space with spring things such as bunnies, lambs and flowers.
* Use festive spring design cookie cutters as napkin rings to add whimsy to your table setting.
* Fill pastel baskets or pails with sweets or snacks to create a charming table setting.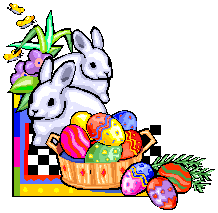 Activities:
* Invite your guests to design their own special Easter chapeau for judging of "most beautiful," "most original," "best use of materials," and "funniest" hat contests and parade them around for all to see. Play a fitting backround of Fred Astaire and Judy Garland's version of the song "Easter Parade." You can also show the classic film on your VCR or DVD player or give the book as a prize. All found at The Easter Parade Collection
* Teach your guests how to create their paper posies.Bright and billowy tissue paper flowers will bloom in any weather, as table decor, gift trim or even in the bonnets mentioned above.
* Don't let sudden showers spoil your young guests' spring fun. Lay in a stock of Velveteen Rabbit, Peter Cottontail and spring-themed movies
* Here's a goofy game that will bring giggles and grins. Gather your guests into a circle and start an oversized, plastic Easter egg or pastel-colored balloon going around from player to player keeping the egg/balloon in the air at all times. However, before someone can toss the egg to the next person, they must say a the title of a spring song, book, movie title (no repetitions, please). If they stop moving the egg within 2-3 seconds, they're out.
* A goody-filled Pinata is the hit of any party. Get yours in a bunny shape for a total theme effect. This is not a hare-brained scheme.
* Baskets and Bows is a fun game which you do by wrapping an Easter basket of chocolates and treats in 9 or 10 layers of gift wrap, cellophane or tissue and colorful ribbons. Sit everyone in a circle, play music and pass the basket around like a "hot potato." When the music stops, the person holding the package removes one layer of wrapping. Their "reward" for getting a chance to unwrap the present is that they have to perform a trick, sing a song, dance, tell about their first kiss, or something silly like trying to whistle with a mouthful of crackers. Repeat until the last layer of wrapping has been removed. The last person to unwrap keeps the basket.
* Create a photo opportunity setting and let each guest pose with a costumed character or in front of a Pastel Photo Prop.
* Outfit a gregarious guest as a bunny to entertain the guests and pose for photos.
* Set up an Easter egg hunt for kids of all ages. There's no reason that the grown-ups can't get in on the fun with special colored eggs that are filled with adult novelties mixed in with smaller eggs filled with child-friendly treats.
* Fill the air with beautiful music to celebrate the rites of spring.
* Visit our friends, ThePartyWorks.com for a total plan for an Easter Birthday Party.
* Get the kids to sing and dance along with lively spring tunes like the Bunny Hop, of course.
* Video tape your party activities both to save for showing as a party finale and to duplicate and send to family members living miles away. Think about putting past holidays videos on a DVD for a reminiscent activity at your family party. The viewing is incredibly easy when you have it on DVD.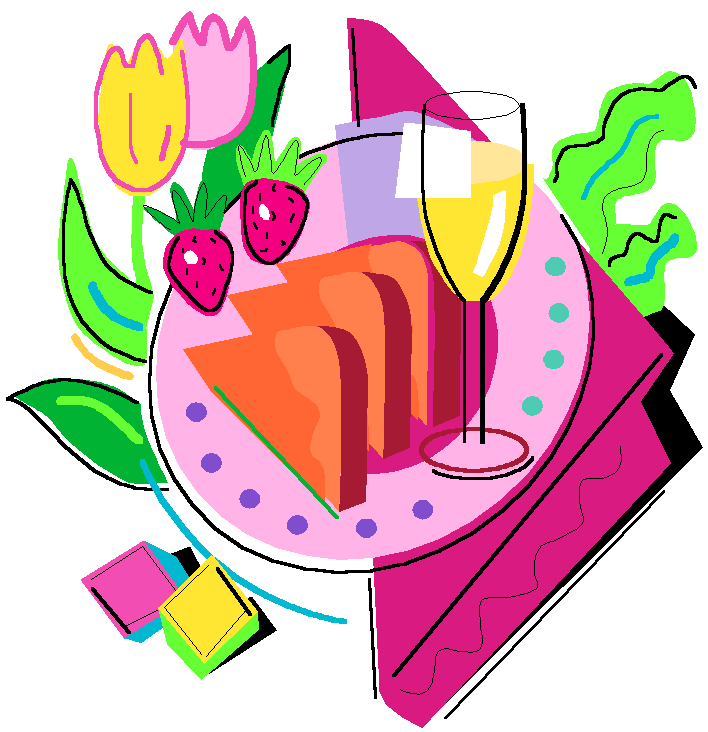 Refreshments:
* Use Easter cookie cutters to cut bread for hors d'oeuvres, sandwiches or sugar cookies to keep your guests (or kids) in a sweet mood.
* Fill decorative baskets, buckets and bowls with side dishes, salads and sweets.
* You'll find Easter recipes a-plenty when you type "Easter" on the FoodTV.com site
* For a gift they'll enjoy now and later, fill fun hand puppets with jelly beans and chocolates.
* Love books? Love to cook? Then you'll love this FREE gift to keep or share with your guests that they won't have to hunt for. It's "Cooking by the Book" and it contains 50 scenes and recipes from 50 books from 25 writers around the world (including Phyllis Cambria's "Easy and Elegant Country Chicken Kiev" which would be perfect for a spring supper). You can read more about the book and download it here .
* The fun will last until summer with spring-themed books for the young and the young-at-heart.
Kids, big and little will sit still for a Bug Funtoo to decorate their face or arms.
* What better than a sweet instant or digital photo with a costumed character? And placed in a full-color cardstock photo frame. Capture the moment!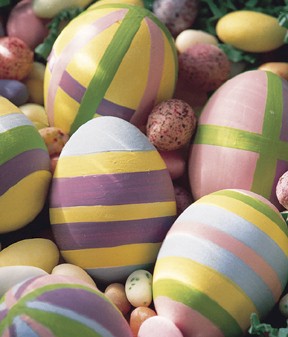 Outside cover of frame.
* Little ladies will love their dress-up and glamorous party favors
* The perfect gift for the new baby on your guest list is a copy of the best-selling Pat The Bunny book.
For a full range of party supplies for every theme and occasion visit the companies below:


Directory of Kid's Party Themes
Visit the PartyPlansPlus.com catalog for books, reports, and products to give your party plans a boost. Or want to track down the absolute perfect book for your event? Check out our Best Party Planning Books Page.

To get on the PartyPlansPlus.com mailing list for our FREE newsletter, simply enter your e-mail address below. Use your back button to return to this page. Periodically you will receive news and announcements about the latest in the world of parties and celebrations.
2006 Phyllis Cambria, All Rights Reserved